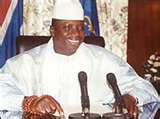 Following the demand of the general public, for the GFA to retain the Belgian born coach Paul Put, President Yahya Jammeh, told a jubilant crowd on Monday that he will retain coach Paul Put as the senior national team head coach.
The Gambian leader who was addressing thousands of football supporters and fans at the July 22ndSquare following the Scorpions historic performance against the Teranga Lions of Senegal last Saturday , said no matter what it takes he will retain coach Paul Put. " I want to assure the Scorpions and all Gambians as far as I and my government are concerned, we are going to retain both the coach and the trainers, what ever it takes. Even if there is no sponsor, I am going to pay for their salaries as long as they wish to stay," President Jammeh assured.
President then assured his full support for the Scorpions and his standing preparedness to give maximum support to the boys seeing that they are great sons of the nation.
It could be recalled that the born Belgian coach whose one year contract was fully paid by Africell to take charge of the senior national team in May 2008, 3weeks before the Scorpions start their 2010 World and African cup qualifiers.
Paul Put who has won the love of the Gambian people within a short spell has transformed Gambian football to another level, and Gambians believe that the great man should be honored for a job well done, as he has taken Gambian football to a different level.
Paul, born in Belgium in 1946, has already written his name in the history of Gambian football after eliminating the archrivals Senegal from the World and African cup of Nations qualifiers in Senegal. The Gambia has failed to collect a point in Senegal since 1962.
The Gambian people believe that Paul should be recommended as a man of dignity who loves The Gambia. This is a man that Gambia will always believe in, a fan told Pointsports in an interview.
Meanwhile the Gambian players have finally seen their dreams come true after his Excellency the president of the Republic of The Gambia assured his full support to retain their coach. "We need him; we will be very happy if he stays with us because he motivates us and gives us confidence and courage. I never regret working with him, We pray that our sponsor Africell will come to extend our coach's contract," Captain Ebou Sillah had said prior to the team's departure for Senegal.
Read Other Articles In Article (Archive)