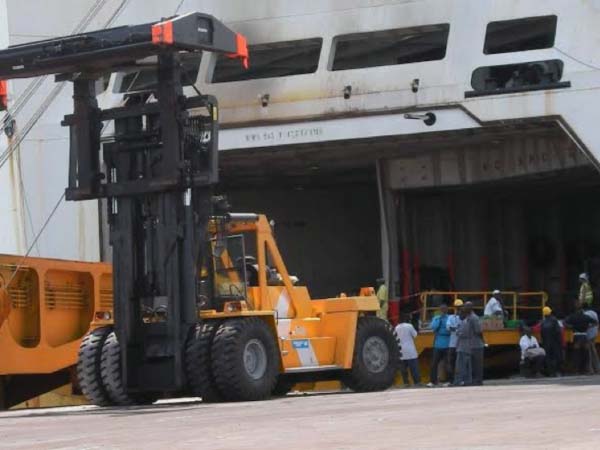 President Yahya Jammeh has said the Gambia Ports Authority (GPA) will in 2016 intensify efforts at seeking partners within the framework of government public-private sector partnership to develop and expand the seaport.
Speaking at the recent State Opening of parliament, President Jammeh said the GPA will also in 2016 commence the construction of a new Kanilai-type Ferry at Damen Shipyard in Holland.
He said the ferry is designed to have separate decks for passengers and vehicles, adding that they are also working on building a Deep Seaport by 2021.
On Information and Communication Infrastructure, the Gambian leader disclosed that the objective of his government is to transform The Gambia into a digital economy, where trade and commerce will be conducted using information and communication technology supported by the ACE submarine cable system.
"My Government acknowledges that for our economy to be more competitive, the ICT infrastructure must be enhanced; hence our decision to be part of the ACE consortium.
"As we pursue the transformation to a digital economy, the Ministry of Communication and Communication Infrastructure is drafting a National ICT Agency Bill which will be tabled before the National Assembly in 2016 for enactment."
He said the National ICT Agency will be responsible for the coordination, establishment and sustainable execution of a national ICT programme.
Its setting up would help create a highly qualified and competent technical team to effectively manage national ICT systems and networks that would become more sophisticated and complex, he stated.
On Works, Infrastructure and National Assembly Matters, the President said: "My government will continue to invest in public infrastructure, which is a sine qua non for rapid socio-economic development.
"We have made significant progress in this regard by ensuring that most major settlements and growth centers are connected by a paved road network system completed by electric power and potable water systems."
He said that in the course of 2016, the construction of the long-awaited Laminkoto-Passimus Road would commence and, if completed, the whole country on either side of the River Gambia would be connected by a paved road network.
The second phase of the Banjul International Airport Improvement Project will be completed, he said, adding that through this project "the apron and taxi way are being upgraded and expanded" to accommodate more and bigger aircraft.
"A new air navigation instrument landing system will be installed and the ongoing new fire and rescue station will be completed and fully equipped," he added.
At the end of the project, he said, "the airport will be more competitive" and would have attained the highest standards in both infrastructure and safety.
Read Other Articles In Article (Archive)