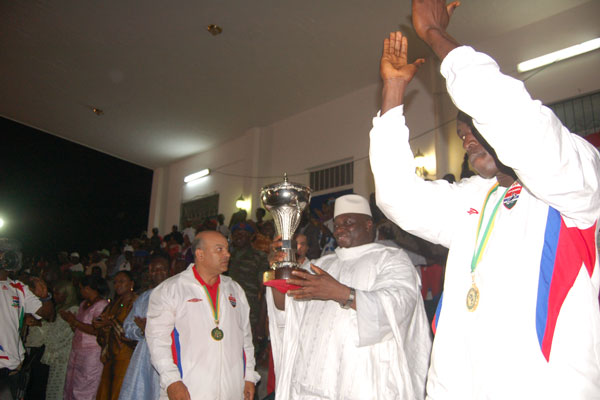 In fulfillment of his pledge to the national U-17, the Gambian leader, President Yahya Jammeh yesterday presented 29 million, Six hundred and Ten thousand dalasi to the team and officials that attended the U-17  Championship in Algeria.
The money that was presented was all in physical cash.
The first eighteen players of the U-17 team including the coach and seven team officials each received One million dalasi, while six of the players who were not on the official list but were in Algeria, each received D500, 000.00.
President Jammeh also extended his philanthropic gesture to the four sports journalists that covered the championship plus four others.  Each received D30, 000.00.
The Protocol officer and security who accompanied the team each received D150, 000.00 and two advance party members also collected D50, 000.00.
During the presentation ceremony held at State house, President Jammeh commended the Baby Scorpions for making everybody proud stating that his reasons for supporting football is because it is one of the highly paid jobs in the world. It also reduces unemployment and provides a source for remittances back home.
Jammeh noted that sports is of paramount importance to his government agenda and advised the Baby Scorpions not to forget the supremacy of God and the blessing of their parents in all they do.
He urged Gambians to be coming out to watch football matches at the Stadium and to change their attitude towards their national teams, adding that Gambians were not very supportive to the team during the qualifying stages.
"Gambians should support the team both morally and financially," he emphasized.
The Vice Captain of the team, Omar Colley who spoke on behalf of his colleagues, thanked the President for his gesture, and also the companies and individuals who supported the team.
All the 18 players of the U-17 side were said to have opened an account with Trust Bank.
Other speakers included Major General Lang Tombong Tamba, 1st Vice President of the Gambia Football Association and chairman of the marketing committee.
(See a more detailed report on this historic event  in our subsequent  edition).
Read Other Articles In Article (Archive)