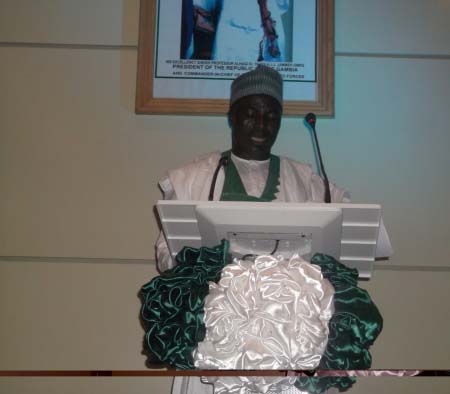 The Nigeria High Commission in The Gambia Thursday commemorated the home country's 55th independence anniversary with a cocktail reception held at the Kairaba Beach Hotel.
Nigeria got independence from Great Britain on 1 October 1960, and the day has since been celebrated with colourful display and merriment across Nigeria and abroad.
In The Gambia, the cocktail reception organised in honour of the day was attended by officials of the diplomatic and the consular corps in the country.
Speaking on the occasion, Charge d' Affaires of the Nigeria High Commission, Mansur Guissimi Abdulkarim, said the independence anniversary is a day of stocktaking by the Nigerian people and government on their achievement as a sovereign nation.
It is also to reflect on the state of the country's wellbeing vis-a-vis politics, economy and other areas.
Charge d' Affaires Abdulkarim noted that Nigeria's 55-year journey since independence has not been easy.
He said Nigeria's electricity generation and distribution is one of the ever challenging areas of the country, albeit efforts by previous regimes to address the situation.
He added that the present government has taken significant steps in mapping-out a comprehensive roadmap for the power sector reform that would address power supply in the entire country.
However, Charge d' Affaires Abdulkarim pointed out that there has been a reasonable stability of electricity power supply in Nigeria with generation level at 7,000 megawatts from a little over 3,000 megawatts, when the new president took over on 29 May 2015.
He added that President Muhammadou Buhari has made the fight against corruption and terrorist insurgency in the North-East of Nigeria the cardinal principle of his administration, with economic development and job creation also placed centre-stage.
He noted that Nigeria has become the largest economy in Africa overtaking South Africa since last year, with GDP estimated at US$502 billion in 2014.
Excellent relations
Charge d' Affaires Abdulkarim said there continue to exist fruitful bilateral relations between The Gambia and Nigeria, adding that Nigeria will continue to partner with The Gambia at all levels.
He commended President Yahya Jammeh's tireless efforts in ensuring that the relationship between the two countries is strengthened and sustained.
Speaking on behalf of the Gambia government, the minister of Higher Education, Research, Science and Technology, Dr Abubacarr Senghore, congratulated the government and people of Nigeria on the occasion of their 55th independence.
He reiterated that the two governments have a strong and longstanding relationship.
Dr Senghore said the government recognised the presence of Nigerians in the education sector contributing significantly to the development of the country's human capital.
He said there is marked presence of Nigerians in several other sectors of The Gambia, contributing to the development of the host country.
Read Other Articles In Article (Archive)