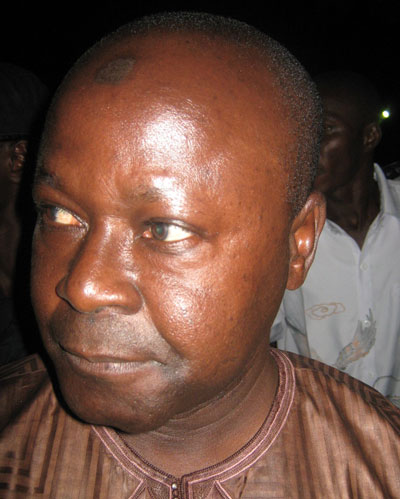 Police Inspector Ballo K. Jobe, the sixteenth prosecution witness, Thursday testified in the trial involving Ibrahim Bun Sanneh and four others at the high court in Banjul before Justice Emmanuel Amadi.
Ibrahim Bun Sanneh, former NDEA Executive Director, Karamo Bojang, former Deputy Chief of the Agency, Ousman Sanneh, former Commissioner of Operations of the Agency, Seedou Bojang, the Agency's accountant, and one Marie Sanneh, were indicted by state prosecutors under a 30-count charge.
The alleged offences include conspiracy to commit felony, stealing by person in public service, aiding and abetting, unlawful possession of fire arm, unlawful possession of live ammunitions, concealment and destroying of evidence, official corruption, abuse of office and committing economic crimes, obtaining money by false pretence, and making document without authority, among others.
Inspector Jobe testified and told the court that he knew all the accused persons in the case, adding that he was part of the panel that investigated the said case.
He said he also knows Omar W. Joof, who was a police officer and a hand writing expert.
"On 7 April 2010, the panel requested the services of a handwriting expert in order to examine the receipt that was received from Seedy Bojang, the fifth accused.
He added that they took the sample of the handwriting of Seedy Bojang and Marie Sanneh, because the receipt had show that the fifth accused received D140,000 from the fourth accused.
Inspector Jobe revealed that the receipt was photocopied from the diary of the fifth accused, because the panel members did not see the original diary.
PW16 further adduced that Omar W. Joof examined the report, and the signature of the author and submitted the report to the director of the NIA in May 2011.
The deputy Director of Public Prosecutions, S.H. Barkun, applied to tender the said statement report, but this was objected to by defence counsel L.K. Mboge.
However, the defence counsel's objection was overruled, and the report was accordingly admitted and marked as an exhibit.
The witness under cross-examination stated that he knew the accused persons prior to the investigation of their case, adding that the fifth accused was called to the panel on several occasions as a witness.
He further stated that he did not request for the statement; it was requested by the handwriting expert, and he did not investigate how the signature on the statement was obtained.
The case at that juncture was adjourned till 29 June 2011. 
Read Other Articles In Article (Archive)