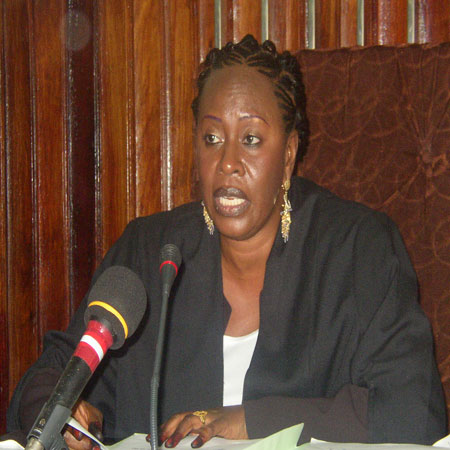 The Extra-ordinary Parliamentarian of the 21st Century
Hello and a warm welcome to yet another scintillating edition of Personality of the Week, your weekly column aimed at bringing prominent Gambian top notches and achievers into the limelight.
In today's edition, we bring you the profile of a woman who has exemplified, and in fact proved beyond reasonable doubt that the government of the Gambia allows and encourages women empowerment to enable them take up their proper roles in national development processes. She is Hon. Fatoumatta Jahumpa Ceesay, Speaker of the National Assembly of the Gambia, a woman who while sighting her on the move, one clearly reads the great handwritings on the wall, "Women empowerment is indeed on course in the Gambia".
Hon. Fatoumatta Jahumpa Ceesay, the Gambian born parliamentarian by all standards, deserves a public attention and should thus be portrayed in this light as an extra ordinary personality of the 21st century.
A scion of the towering Garba Jahumpa family, FJC has obviously inherited some of her fathers political charisma and astuteness; never missing out on any opportunity to win a political advantage.
A household name in the Gambia, FJC as she is fondly called contributes in almost all the diverse spheres of human endeavour, parliamentary business, politics, broadcasting, philanthropy and the sundry field of life.
This great woman worthy of being recorded by the present and future histories of the Gambia and Africa in general, should be emulated by all and well meaning people of the Gambia.
A revision of her starling qualities will amount to singing an endless litany of praises. Hon. Fatoumatta Jahumpa Ceesay, a pacesetter in parliamentary business, development mogul, a living legend of philanthropy and, above all, the woman of the people, has made history for being the first African woman to head the largest Regional Parliamentary Group in the Commonwealth Parliamentary Association as President of Africa Region.
Her journey to greatness, characterised by the rare virtues of honesty, hard work and discipline, is noteworthy. As a role model for all, especially Gambian and African women, FJC's style of life gives surge and confidence and spurs growth and greatness in the lives of the willing.
Through her landmarks, she has made vivid the fact that the government is indeed in the right track towards women empowerment in this country. Hon. Jahumpa-Ceesay exudes the great thoughts and visions of President Jammeh for the Gambia.
Born on 25th October 1957, FJC is a trained journalist whose commitment to social responsibility as bedrock of journalistic ethics has snowballed into active service to her fatherland and indeed Africa.
She attended Methodist Prep and Kindergarten school and Crab Island Junior Secondary before proceeding to Armitage and later GambiaHigh School where she completed her secondary education in 1977.
Seen as a delight to behold, FJC obtained a higher Diploma Certificate in Print Journalism at the Centre for Foreign Journalists in ReatonVirginia, USA in 1995. Everything around Hon. Fatoumatta Jahumpa-Ceesay radiates brilliance, love, understanding and peace. She had local and international training and courses leading to Certificates in Print and Broadcasting Journalism, Human Rights and Public Relations.
Mrs. Jahumpa's career began with her employment as an announcer at Radio Gambia. She later joined the Gambia Airways Limited where she rose to the position of Cargo Supervisor and Public Relations Manager in April 1993.
She joined the Daily Observer and Point Newspapers as a freelance, where she was a columnist for family focus, writing on women, children and political issues.
In recognition of her commitment to women and youth development, she was appointed as a lady councillor at Banjul City Council in 1985 and became the first woman Deputy Mayor of Banjul in 1989. She was appointed by President Jammeh as Director of Press and Public Relations at the office of the President in 1997, a position she held until January 2002 when she was nominated by His Excellency the President, Alhagie Dr. Yahya A.J.J. Jammeh, as a member of the National Assembly.
In February 2002, she was nominated to the West African Community Parliament (ECOWAS Parliament). Mrs. Jahumpa-Ceesay is the Co-ordinator of Economic Community Female Parliamentarians Association (ECOFEPA) and the first woman to be appointed Deputy Speaker (4th) in the ECOWAS parliament. In February
2007, she was again nominated by President Jammeh as Speaker of the National Assembly, a position she still holds.
She is the founder/former board member of the West African Networking for Peace Gambia Chapter (WANEP). She was an election observer in the 2003 Presidential, Gubernatorial and National Assembly elections in Nigeria.
Also observer in elections in Liberia, Guinea-Bissau and Republic of China on Taiwan (ROC) Presidential elections.
FJC has both local and international awards. Insignia of Medal of the National Order of the Republic of the Gambia awarded to her by the President Alh. Yahya A.J.J. Jammeh in 2000 for her impressive career path; Paul Harris Fellowship Award sponsored by His Excellency The President of the Republic; Child Friendly Award by the Observer Youth Column; Better Life Programme for African Rural Woman Award 2005 for contributing to the development of mankind and African Women Leaders Diamond Award 2005 (maiden edition) for her eminence contributions for the African Woman.
In May 2006, FJC was elected as the Regional Representative for the Commonwealth Parliamentary Association (Africa Region). She is the adopted mother of the National Association of patriotic Students of the Gambia (NAPSA). On 31st July 2006, she was awarded with WAWA (maiden edition) by ECOWAS held in Dakar, Senegal attended by the President of the Republic of Senegal. The award was for her leadership qualities and contributions in the sub-region of (ECOWAS).
FJC was in September 2007, was elected Africa's Representative to Commonwealth Parliamentary Association (CPA) a position she should hold till the period September 2010.
As many of her peers already attest, Hon. Fatoumatta Jahumpa-Ceesay like any other serious minded woman owns her success to hard work and exemplary commitment to duty.
In recognition of her sustained and invaluable contribution to not only the development of the Gambia but Africa in general, FJC was in August 2008 elected as the 1st African woman to head the largest Regional Parliamentary Group in the Commonwealth Parliamentary Association as President of the Africa Region.
Married with a family of three, FJC enjoys working with children, reading, current affairs, meeting people, gardening, cooking and playing golf. She is no doubt an asset to the continent.
Read Other Articles In Article (Archive)