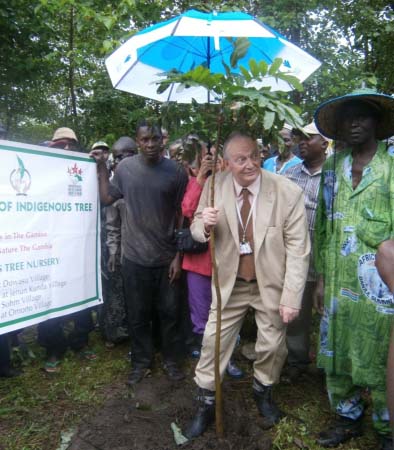 The British High Commissioner David Morley yesterday took part in planting of mahogany and ebony saplings at the Kachitac Community Forest Reserve in Sohm Village in the Kombo East District.
Friends of Nature The Gambia organised the event as part of a project funded by the British High Commission in Banjul to save Gambia's indigenous tree species.
Other community forest beneficiaries include Bokalang Community Reserve in Duwasu, Beresonsoh Community Reserve in Jenun Kunda and Kailanding Community Reserve in Omorto, as well as in villages of Sinchu and Giborokuta.
The trees planted included mahogany and ebony trees, which are meant to regain the lost trees through deforestation.
The British High Commission this year has funded "Friendsof Nature The Gambia" to plant over 21,000 indigenous tree species across forest reserves in The Gambia with the hope that if grown the reforested area of over 200 hectares will help to preserve The Gambia's biodiversity and ensure the survival of indigenous trees.
Commenting after the tree planting ceremony, UK High Commissioner David Morley said: "I was delighted to be in Sohm today to help the villagers plant indigenous tree saplings. The High Commission is thrilled to be associated with such a worthwhile cause. The thousands of saplings we planted today and that will be planted until the end of August should reap benefits for the nearby communities for many years to come."
He said the project should help the villages better understand forest management and conservation in addition to providing sustainable plant products and income generating activities for generations to come.
For his part, Modou Lamin Kinteh, Chairman of Friends of the Nature The Gambia, commended the neighborhood for their commitment and participation.
He revealed that the British High Commission sponsored the cultivation of 25,000 seedlings in four communities but only six thousand were able to be distributed and planted among the four communities, which was due to their sizes, whilst other seedlings are to be transplanted next year.
The trees are rarely found in The Gambia nowadays, he said, adding that most of the seedlings were collected from Guinea Bissau. They would ensure the trees are well protected, he also said.
All through its five-year existence so far in the country, Friends of the Nature The Gambia is mostly involved in Ecotourism and environmental sanitation, he said.
He thanked the British High Commissioner for the gesture, saying they would ensure proper care of the trees.
For his part, the Chief of Kombo East, Alhagie Basirou Jarju, highlighted the significance of the tree planting, saying it is a worthy venture.
Ousainou Cham, Forestry Director of West Coast Region, said the link between the British and The Gambia in the forest conservation dated far back to 1952 through a British forester in Sierra Leone who was commissioned to The Gambia to establish sixty-six forest parks nationwide, which were to serve as biological pools from Nyambai to Fatoto, and approved by the chiefs.
It is also government's policy to ensure that deforestation programmes are going on, he said, adding: "Because of urbanization, we have lost most of our forests as a result of agricultural purposes and settlements, commercialization and logging."
Read Other Articles In Article (Archive)