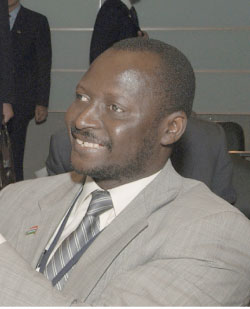 My body is numb, my blood is cold, I only type these words because that is the least I can do to remember a worthy brother, leader and patriot. I cannot remember any piece of news as devastating to me as the death of Famara Jatta, former Finance Minster and Central Bank Governor. He gave his last breath while answering to the supranational call of the African Development Bank where he last worked. May Allah the Most Merciful shower his eternal blessings on his soul in the lofty gardens of Jannatul Firdaus.
I came to know Famara Jatta (fondly called Fams) when he was appointed Governor of the Central Bank in 2003 where I worked as Research Economist. Those were troubled times for our country's apex financial institution. The Dalasi was at an all-time low against the major international currencies, inflation was high and trust in our economy was nearing its lowest ebb. President Jammeh will certainly never regret the decision of appointing Fams, entrusting him with the management of our economy; and Fams did nobly rise to the occasion.
I still remember the first meeting he held at the Bank as Governor. It was at the conference room and all staff were in attendance. Staff morale had never been lower in the history of that institution. His voice was clear firm and honest: "I am not here to stay; I have been appointed to do a job and with your support I hope to accomplish that task and move on to the next station in my life." When he spoke we heard him and a new stage in a multi-faceted journey had begun.
He immediately instituted a new regime of discipline and punctuality in the Bank. No staff would enter the premises without an I.D card and it didn't matter whether you were a Director or cleaner because he himself was not an exception to that rule. Once when a manager came to work late without his staff I.D; the security guard at the reception asked for his I.D but he tried to blackmail the guard saying "I have a meeting with the Governor and I am late." When the security guard called Fams for confirmation, the response was uncompromising "let him go back and get his I.D Card or he cannot enter the Bank."  Now our society could call this kind of attitude mean but this is exactly the kind of discipline we need in our institutions if our country is to achieve her development ideals.
Famara Jatta was the innovative brain behind the setting up of our Central Bank's first ever Monetary Policy Committee (MPC) and I am proud to have been associated with this great stride in the annals of macroeconomic management in our motherland. This was and still is one of the most efficient committees in this country in terms of the professionalism, diligence and academic excellence with which it conducts it affairs as the highest monetary policy making body in the Gambia. The quality of reports this body produces and the improvement in economic governance and transparency it has ushered in could be deemed transformational.
When death visits us emotions run high so I tried to ensure I am not overwhelmed my sentiment in this tribute. Responding to the research economist in me, I walked into the Central Bank and worked with my colleague, the current Research Director Ismaila Jarju. With his team of assistants we mined the treasure trove of macroeconomic data to analyse the legacy of Governor Famara Jatta. And here let me keep mute and allow the facts to speak for themselves, revealing the jewel of a legacy we discovered:
When he took the mantle of the Governor's office, the Central Bank's Rediscount Rate (Policy rate) was high up at 34 Percent; by the time he left that office the rate came down to 15 % percent, thereby saving this country billions of Dalasis in domestic debt service. The country's foreign reserves stood at $37.3 when Mr. Jatta started being in charge, by the time he left, it rose by more than 300 percent to stand at $118.4 million. Inflation, the ultimate criteria to gauge any Central Bank Governor's efficacy was up at 16.9 percent by the time he left it crashed down to a minuscule 1.7 percent! Fams could have confined himself to the ivory tower of a governor's office but many a times I met him walking the isles of Albert Market in Banjul to feel the pulse of our economy.
With the transformation in attitude and work culture at the Central Bank did also come a re-structuring of the remuneration system in that institution whose staff ranked among the lowest paid in all quasi-government bodies in the country. Staff of the Central Bank still regard him as the one Governor that contributed most to their welfare in recent history. Up to the time of his demise, he was always welcomed as a hero whenever he came for a visit to that Bank. Such is the love and respect he commanded that even after his departure from that office, his successor decided to maintain his name as the official title of the Trophy for the Inter-Bank Football Tournament. This trophy used to bear the name of the sitting Governor but Momodou Bamba Saho ensured that Famara's name stayed as the official title of this tournament and I thank him for the well-deserved courtesy.
I have to finish this tribute on a personal note because Famara did have a positive and lasting impact on my life. I graduated from the University Extension programme in 1999 and joined the Central Bank the same year as Economist and stagnated in that position for 6 years without a promotion or any significant pay level or raise. Neither did I benefit from post graduate training during that period. It was during Famara's tenure that I was promoted to Senior Economist and then sent to do a Masters in the US.
When I published my first book "Jangi Jollof" Famara could not attend the launching because it coincided with his travel out of the country but upon his return, he called me to his office, showered me with appreciation and asked that my book be advertised on the Bank website. This is no common generosity in that most conservative of institutions to put it mildly. Sheriff Bojang, CEO and Editor in Chief of the Standard Newspaper would agree with me that Famara was a boon to young talent in our country for he officially launched Sheriff's first book with great cheer. He used to be my neighbour in Banjulunding and we prayed many a 'fajar' together in the village mosque. I also witnessed his benevolence to that community and he never was one to show off charity. Such was the kindness and courtesy of Famara Jatta that I could write a book on him and still leave a lot unsaid. But with poetry I will preserve his memory with many an "Ode to Famara".
Rest in peace dear Famara.
Read Other Articles In Article (Archive)