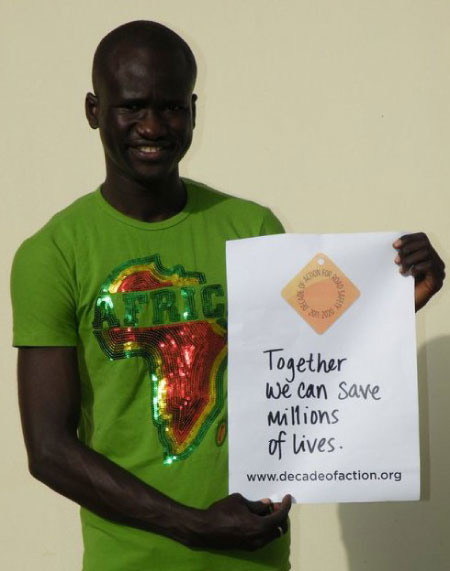 The National Youth Parliament (NYP) through its programme officer, Siaka K. Dibba, has issued a statement on World Day of Remembrance for road traffic victims.
Bellow we reproduce the full text of the statement:
"Every year, since 2005, the 3rd Sunday of November is commemorated worldwide as the World Day of Remembrance for Road Traffic Victims. November 18 marks the 8th year. The theme for the 2012 commemoration of the occasion is "From Global Remembrance to Global Action across the Decade - Now is the time to learn from the past".
This year's theme is a combination of the motto for the first ever Decade of Action for Road Safety, launched by the UN and WHO in May 2011, and the specific theme for 2012 – now is the time to learn from the past.
It relates to the call in Pillar 1 of the Global Plan for the Decade for ongoing monitoring and evaluation, through relevant data system, of road danger, road crashes, and their causes and impacts.
It is a day of memory and mourning, as well as commitment at all levels. Wherever there is a cross or a wreath along our roads, it means that our efforts, despite the hard work, were not sufficient enough, that more could have been done and that more needs to be done.
Road Traffic victims deserve to be remembered and honored: they were our children, colleagues, beloved friends or next door neighbours. Their injuries and tragic deaths, in many instances avoidable, have created voids in our lives, stole our joy, denied us their invaluable contributions to national development and left families with never ending grief. We owe the injured, the hospitalised and the departed the obligation to make our roads safer. This is a clarion call that all must heed, and all must roll up our sleeves and build up results.
As young people and youth parliamentarians, we will actively continue to sensitize road users and intensify our advocacy work for better road, infrastructure and vehicle safety, and a reduction of key risk factors, such as drink driving and speeding, in order to minimize, and ultimately eliminate, road traffic crashes and victims.
We call on the Government to establish, as a matter of priority, a lead agency that would examine our road safety history and coordinate the effective implementation of our road safety policies and strategies. A zero tolerance for road traffic crashes will save more lives.
In conclusion, we also call on everyone, including religious leaders, to remember and pray for road traffic victims during their church services and Friday prayers.
Let's make 2011-2020 a Decade to remember!"
British High Commission announces opening of Chevening Scholarships
Applications for UK Chevening Scholarships, the prestigious global scholarship programme run by the UK Government, are now open to Gambian students. 
Every year the British High Commission to The Gambia sends two Gambian students to the UK for a fully funded one-year Masters degree programme at a university of their choice.  There are currently two Gambian students in the UK studying advanced economics at the University of Edinburgh in Scotland.
Scholarships are awarded to exceptional candidates with future leadership potential.  Information on eligibility and how to apply can be found online at – www.chevening.org.  Applications must be made online and not sent to the British High Commission.
Chevening Scholarships operate in over 100 countries around the world and this year will support over 700 students.  The Chevening Scholarship programme has been running since 1983 with worldwide alumni of over 41,000 people.    
Commenting, UK High Commissioner David Morley said: "The Chevening Programme is recognised around the world as one of the most prestigious scholarships. Since 1983 the British High Commission to The Gambia has been sending talented individuals to the UK to further their studies and I am delighted we continue to offer this chance to Gambia's strongest students." 
Read Other Articles In Article (Archive)