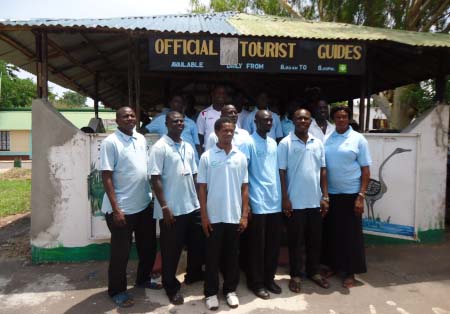 Members of the National Tourist Guides Association (GTGA) Wednesday convened a press conference on the demolition notice received for their Senegambia office in Kololi.
They said demolishing the office would affect 60 young people working as tourist guides.
NTGA president Mustapha Jobe recalled that establishing their association was among the measures to address problems in the country's tourism industry.
According to Jobe, the government decided that the image of the industry was being negatively affected, because of "a bumster menace", and decided to address the menace.
In 1996 -1997, the government organised a stakeholders' consultation forum. Consequently, it introduced the national tourist guides scheme, Jobe added.
He said 60 young Gambians from the Gambia Hotel School were trained to be official guides; they were registered and then deployed in the various hotels.
He said after one year of deployment in the hotels, the hotels' management and tour operators "felt threaten and advised the hotel owners to kick out the tourist guides from the hotels."
Jobe further asserted that "the land that the NTGA are occupying now does not belong to Senegambia Beach Hotel nor Kairaba Beach Hotel," and that there are related documents prepared in 1982 by the National Tourist Office together with another organisation.
Jobe said the land was built on for the tourist guides, to serve as a permanent office for them.
He added that currently the association has been allocated two places, "which are not an ideal place to receive tourists", and secondly the two places were not given to the guides' association as a permanent (office) location."
Read Other Articles In Article (Archive)