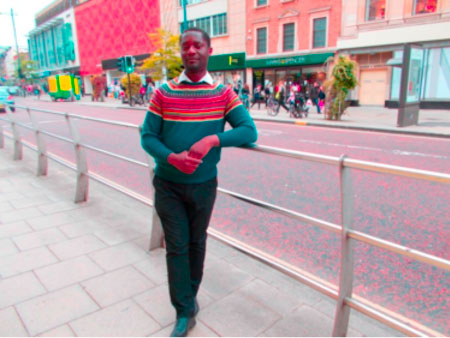 One of the new entrants in The Gambia's IT industry to be utilised by business institutions in promoting their products and advancing their businesses is Njaay Solutions, which majors in web designing and software installation projects.
Since productivity and vibrant websites are some of the aspects in which companies are seen to be crucially competing across the world, a standard provider of these aspects has now reached The Gambia to upgrade provision of the service in the country.
Njaay Solutions, a sole trader, is a newly registered project in The Gambia located in Manjai kunda, Kanifing Municipal Council.
The new business concern primarily focuses on web designing and software development. And behind this new entrant in the Gambian business milieu is Fabuka Njaay, a Gambian who returned to the country from the UK where he had been working as a web designer and software installation guru for many years.
Mr Njaay secured his postgraduate diploma in Banking and Finance Services Management in the University of Leicester, Master's degree in Marketing at the London Metropolitan University and E-Business Management at the Stonebridge College in the United Kingdom.
Speaking to The Point, Mr Njaay said that while living in the UK for the past 13 years, where he secured his credentials, he had been working as a web designer and software installation officer, before he decided to return to his native country to apply his knowledge and skills in developing websites.
He says the standard of web designing in The Gambia needs to be taken a notch higher, hence he has decided to make that difference by returning to his land to execute his trade.
"I want to continue with my web designing work in The Gambia, through reasonable prices agreed upon," he said.
"We are certain that when the job is begun, the web would be designed to clients' satisfaction. We are also flexible to meet the client's affordability. Also if the client has any suggestions with any improvement on the website we will do any rectification or adjustment to suit the client's need of any design of his or her choice."
Customers' satisfaction is their pride, Njaay said. "Payment is made after the installment and its inspection. We urge clients to be confident with our service. We have three years of free maintenance for each web designed by us. And if you need any technical assistance we will do it for free within the scope, while we will also host the client's web for a one-year period with no additional cost."
He pointed out that they are looking forward to partnering with key institutions in both the private and public sectors.
According to Njaay, they are also engaged in the development of e-Learning projects and information system for schools among others.
Njaay Solutions also works on a Search Engine Optimization (SEO), he said, adding that companies can sell their products through the web, which the project can optimize for companies or individuals to list their products and prices.
Njaay Solutions designs webs from scratch and also works on the content management system of the website for the client, which is at the back end of the website, the Gambian web designer said.
According to Mr Njaay, business people and companies can also portray or advertise their products through gambusiness.com where products could be seen by customers from around the world, which he says would promote businesses in The Gambia.
The gambusiness.com web is also useful for payment gateway for clients' transactions through importation and exportation services, offered free by the project, he said, adding: "Interested individuals or companies can reach our project through Fabuka@consultant.com or (00220) 2320810 / 7160351."
Mr Njaay calls on companies and individuals to give them a try for the development of their websites through which their businesses can reach the wider world. 
Read Other Articles In Article (Archive)