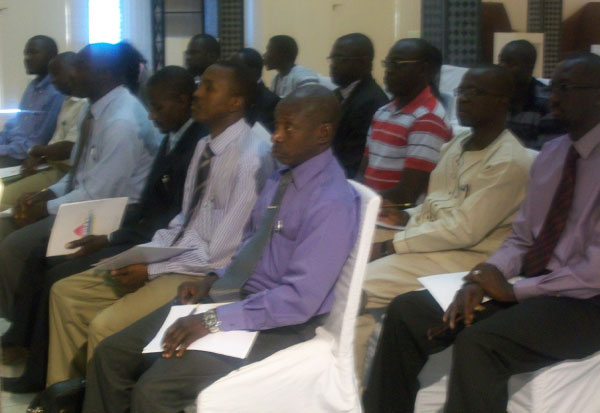 Nifty ICT Solution, a local IT service provider in The Gambia, in collaboration with Oracle Corporation, the world's number one and leading relational Database company, and its Gold Partner, Pro Vision Consultants Limited of Accra, Ghana, recently organised the first ever Oracle Executive Event in The Gambia.
The event aims at showcasing Oracle's Enterprise drives performance.
The day-long business meeting organised at the Coco Ocean Resort brought together members of the private sector and other stakeholders to share with organizations in The Gambia how Oracle Enterprise Solutions can help drive organizations from all sectors to achieve corporate excellence.
It was an opportunity for participants to interact with each other, exchange ideas on leadership, financial management, customer relationship, planning, internal business processes, growth and human capital management.
Oracle Corporation is an American multinational computer technology corporation with total assets of over $40 billion. Officials say the company is known for its flagship products.
Oracle' Database specialises in developing and marketing the world's number one relational database system enterprise resource planning solutions and enterprise hardware system.
Speaking at the ceremony, the Territory Manager of Oracle Corporation for The Gambia, Sierra Leone and Liberia, Emmanuel Agbobli, mentioned "that for many years Oracle was labeled as an expensive country club but today, Oracle Solutions is typically very competitive in pricing, even with competing solutions that cannot match Oracle in delivering business productivity and product innovation".
He called on institutions that need the services in the international database to link up to their local partners, Nifty ICT Solution, as it is already affordable in emerging markets in The Gambia.
He assured participants of an effective support infrastructure to support clients after solutions deployment.
Jalamang Jobarteh, Managing Director of Nifty ICT Solutions, said they are working with their partners to solve the IT relations of various stakeholders in The Gambia and the sub-region in computer application. "Any institute or individuals who need oracle services can contact Nifty ICT solutions," said Mr Jobarteh.
He said that their company is locally based in the country that has undertaken developed software, computer training, networking and computer maintenance, adding that they have been in collaboration with Oracle since 2007. 
For his part, the Business Development Manager of Pro Vision, Josh Ababio-Ntodi, Ghana, asserted that the interest of most organizations is how to use applications technology to drive their business performance in today's competitive market.
He said that Oracle Database and Enterprise Solutions provide answers to these interests by driving organizations to achieve corporate excellence and also address the main areas of the organizations.
"Pro Vision and Oracle have deployed Oracle Applications in the public sector, utilities and energy sectors and the applications have also been deployed in the financial services industry and the private sector industries in Ghana," said development manager.
Read Other Articles In Article (Archive)