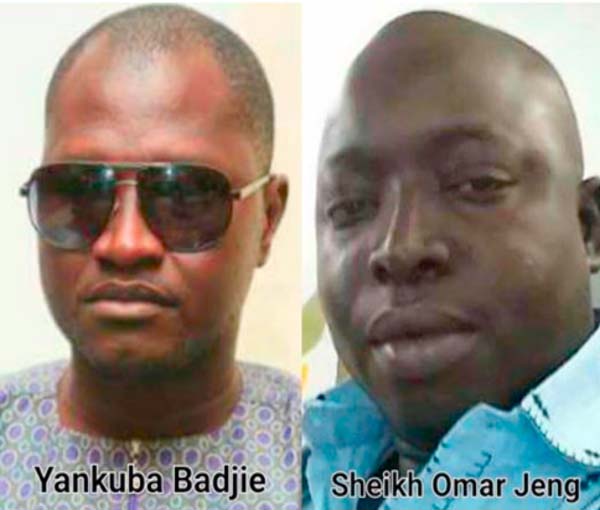 Defence Counsel C.E. Mene yesterday objected to the high court's jurisdiction to hear the alleged murder case involving nine former officials of the National Intelligence Agency (NIA) on the grounds that it does not follow due process of the law.

The nine officials are Yankuba Badjie, former director general of NIA, Louis Richard Leese Gomez, Saikou Omar Jeng, Baboucarr Sallah, Yusupha Jammeh, Haruna Susso, Tamba Mansaray, Lamin Darboe and Lamin Lang Sanyang.
They are charged with twelve counts of criminal offences of conspiracy to murder, murder, assault causing actual bodily harm, conspiracy to commit misdemeanor, forgery and making documents without authority.
When the case was called, the deputy director of Public Prosecution MB Abubacarr appeared for the state alongside, A. Adeyimi, O. Danso, E.R Dougan, and B. Jeng.
The defendants were represented by C.E Mene, E.E Chime, E.A Gomez, P. Gomez, Moses Richards, S. Kennedy, U. Achigbue, and D. Dayo.
Defence Counsel C.E Mene said since the state has now filed information before the court, it should strike out the previous charge before the high court that emanated from the Banjul Magistrates' Court.
"If they have two processes before the court it would be termed as an abuse of court process," he said.
The state did not object and the previous information was then struck out by the presiding judge.
The trial judge then asked the accused persons which language they are comfortable and the 8th accused opted for Mandinka and the rest said they are okay with English.
The presiding judge then read the charges to them in English and it was translated to the 8th accused in Mandinka. They all said they understood the charges.
Defence counsel C.E. Mene said now that charges have been read to the accused persons they wish to make an objection to the jurisdiction of the court to entertain the case.
"I am seeking the order of this court to strike out this case," he said.
State counsel M.B. Abubacarr said counsel Mene was objecting to the charges of the court but should not go into the summons on notice that was served on them in the morning.
Counsel Mene said he was not proceeding with the summons on notice but objecting to the charges.
He said they are objecting to the court's jurisdiction to entertain the case on the grounds that it has not followed the due process of the law.
Defence counsel D. Dayo also brought to the attention of the court that they had a pending application at the court.
The state said they had been served and that they would react to it.
The presiding judge then adjourned the case until 10 April 2017, for the hearing of the summons on notice and 11 April 2017 at 12 noon for the bail hearing.
Read Other Articles In Article (Archive)