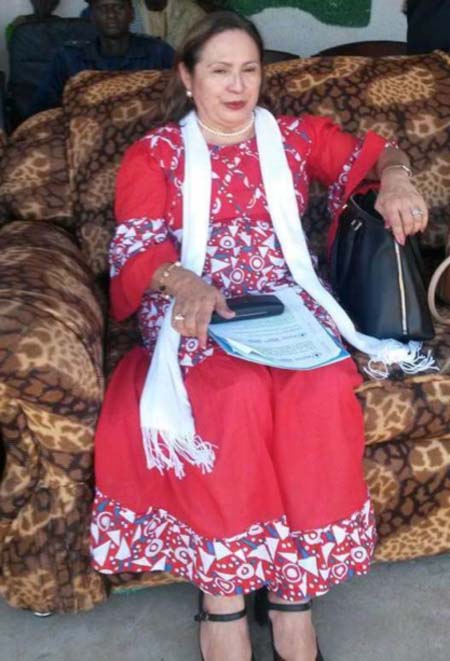 The newly-appointed World Food Programme (WFP) Country Director, Angela Cespedes, has declared her institution's firm commitment to maintaining close collaboration with the Gambia government in achieving zero hunger in the country.

She gave this assurance while delivering a speech during the celebration of World Food Day on 16 October 2016, at Janjangbureh, in the Central River Region.
In The Gambia, she said, the WFP is working in close partnership with several governmental institutions, UN agencies and other development partners to improve food security, nutrition and education and to build resilience and minimise the risks of climate change.
She urged all development partners, civil society organisations and private institutions to take a holistic approach to climate change, food security and equitable social and economic development.
"The well-being of this generation and those to come depends on the collective actions we take now," she said, adding that only by working in partnership would they achieve zero hunger and freedom from poverty, in a world where all people, especially women and children, would have equal opportunities to lead prosperous and dignified lives.
The World Food Day recognises the crucial role of climate change to food, nutrition and agriculture, she added.
The celebration was to promote worldwide awareness and action for those who suffer from hunger, food insecurity and malnutrition, because climate change is one of the main challenges needed to be addressed to ensure a food secure present and future world for communities.
The WFP country representative further said climate change acts as a multiplier of existing threats to food insecurity, hunger and malnutrition.
It makes natural disasters more frequent and intense, land and water more scare and difficult to access, and affecting badly agricultural productivity.
According to her, already they are aware of the social, economic and environmental challenges the world is facing as a result of climate change.
Together, she said, they need to act now to help people cope and build their resilience, as well as to help connect small farmers to the markets so that the risk of food insecurity, hunger and malnutrition is minimised.
To mark the day, WFP highlights the need for bold and constructive partnership with the government, the private sector and organisations that would create the essential momentum towards achieving zero hunger, and shaping a brighter future for millions of children, women and their families.
Also delivering a speech on the occasion, the director-general of the Department of Agriculture, Falalo Touray, who doubles as the chairman of the National Organizing Committee of the World Food Day celebration, thanked all stakeholders and partners for their contribution in one way or the other to making the day a success.
He said one of the biggest issues related to climate change is food security, for "the most poor and the poorest of the poor many of whom are farmers."
Read Other Articles In Article (Archive)