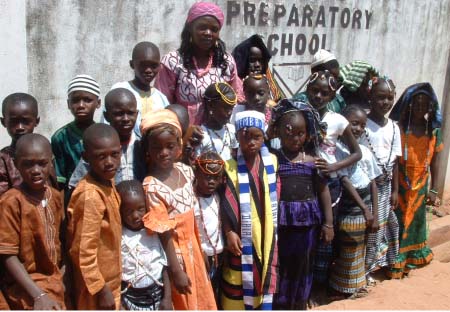 The New Life Preparatory Nursery and Primary School yesterday held its first annual cultural day at its campus in Sanchaba Touba geared towards nurturing Gambian cultural values.
The cultural event brought together school management, a representative of the education sector, parents and students.
The event showcased the presentation of various tribal dishes and clothing symbolizing their different cultural heritage, and also called for honouring one's cultural values and traditions. 
The initiative followed the realization by the head of the school, Mrs. Cecilia Jarrett, who said many people seemed to have forgotten their rich cultural values by taking the Western culture.
The head-teacher said the school is operating on both shifts for seven academic years, with the production of quality education for students, now has also introduced cultural education in the school.
"It is good for the students to be proud of their culture, and also parents to inculcate their cultural values in their children," she said.
She described the various cultures as respectable, while describing the significance of cultures in Africa and The Gambia, in particular, through the Gambian traditional modes of dressing.
Farba Joof, the cluster monitor for the effective teaching and learning in schools, said that it was part of his responsibilities to witness the cultural event.
Mr Joof further revealed that his presence at the event was to monitor the event's relationship to effective teaching and learning, adding that after the assessment of such event, he will try to introduce such to other schools for the benefit of their students and for the promotion of Gambian cultures.
Joof recalled that during the Commonwealth Day celebration by primary schools across the nation, students of various ethnic groups portrayed their various traditional dresses and local dishes.
He commended the school's authorities for the promotion and inculcation of Gambian values and traditions in the children, and hoped to encourage other schools to come up with such events.
Read Other Articles In Article (Archive)