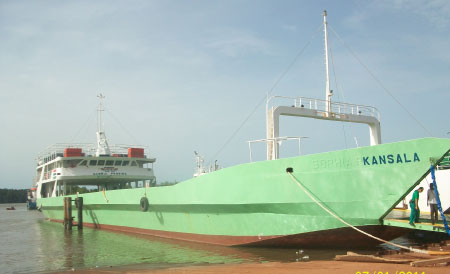 One of the recently acquired ferries known as Kansala at the weekend made its maiden trip from Banjul to transgambia.
The ferry, commissioned as part of celebrations marking the 17th anniversary of the July 22nd Revolution, departed Banjul Friday and sailed on the river Gambia to Bambatenda ferry station, where it started operations.
Speaking to reporters on board the ferry, Hali Gai, deputy managing director of the Gambia Ferry Services, described the acquisition of the new ferries as a national pride and a big achievement for The Gambia.
According to him, this is part of government's efforts at creating effective and efficient service delivery to meeting the satisfaction of customers.
"We are over-excited and can see that it is a significant development in the history of our ferry services because it is the first time that we have this kind of vessel, which will meet demand in terms of passenger satisfaction," he said. "This is a very significant development in the service delivery, particularly river transport, and all credit goes to the President who was able to make this possible within four months."
Noting that each of the two ferries is a company on its own, Mr Gai revealed that the shareholders for Aljamdu are Social Security and Housing Finance Corporation (SSHFC) and GALLIA Holding, a Greek company, while the shareholders for Kansala are the Gambia Ports Authority (GPA) and GALLIA Holding.
He however said the existing ferry service is 100 percent owned by The Gambia government and there are managements charged with the responsibility of managing all the three companies operating in the national ferry service system.
Mr. Gai called on the people, particularly drivers, to take ownership of the ferry as it is serving for the benefit of all and sundry.
Also speaking to reporters, Jerreh Jammeh, operations manager of ferry service, said the availability of the new ferries "will tremendously reduce the pressure" on them.
According to him, the new ferry will create a bigger traffic and more revenue.
He urged the general public "not to worry any more" about waiting for long periods before getting a ferry to take them to their destinations as they now have a bigger ferry that can accommodate many people.
He also urged them to ensure that the ferry is clean, as it belongs to all of them.
Truck drivers such as Dawda Nyang, Malick Bah, Sheikh Tijan Jeng, Sulayman Njie and Lamin T. Gassama expressed joy over the kick-start of operation of the new ferries.
Passengers in the like of Jainaba Krubally, Mariama Manneh and Ramatoulie Manneh expressed gratitude and appreciation about the acquisition of the new ferry, saying that henceforth "there will be no delay" at the crossing points.
Read Other Articles In Article (Archive)