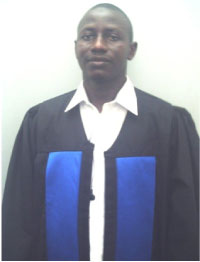 In a continuing effort to bring the plight of vulnerable young people into the public domain and the reactions of those in authority regarding youth empowerment, we bring you an interview we had with Landing B. Sanneh, the coordinator of National Enterprise Development Initiative (NEDI) in his office located at the Independence Stadium.
According to him, NEDI was established in 2004 with the main objective of promoting entrepreneurship and enterprise development among young people and women through training, offering business advisory services and to provide short-term loans to women and youths.
Sanneh said recently they began working on the modalities of institutionalizing NEDI through an Act of parliament.
He said they are also working towards refocusing their activities and to re-strategise and probably expand their programme base.
"Already we have developed a comprehensive business plan called a strategic business plan for NEDI," he revealed.
He added that the gesture is in line with their quest to satisfy the conditions for the National Assembly to back their establishment through the regulatory framework.
He expressed hope that when this happened it would open a new page in their new strategies of expansion in terms of programmes and operations.
He recalled that since the inception of NEDI, they have been provided over one hundred  retail businesses which include retail shops, supported some fishing activity, bakery and tailoring businesses for young men and women.
"We are very impressive in the sense that some of them are doing very well, despite we have some challenges here and there, especially in the provision of soft loans, and relating to repayment of loan, which is a big challenge," he lamented.
According to him, NEDI still believes there is a way forward in resolving these issues, based on the strategy that NEDI has put in place.
"As we speak, NEDI is developing a loan policy that will actually address the constraints of loan repayment," said Sanneh.
According to Mr Sanneh, NEDI has registered a lot of achievements as they are working with women and youths in terms of improving their economic and social circumstances and livelihood.
He asserted that NEDI provides their beneficiaries with skills based on business management and also support in terms of loans to operate businesses.
He said the initiative is a way of creating employment opportunities for young people, and was pleased that despite some constraints, some of the beneficiaries have registered one hundred percent repayment.
Commenting on the ongoing trade fair at Brikama West Coast Region, Sanneh said NEDI has supported a few vendors at the trade fair to showcase their businesses.
"These vendors were supported by NEDI based on their performance, and we are impressed with the level of their performance," he said.
NEDI will go further to support them because NEDI also seeks to encourage the young people, both men and women in economic activities.
Mr Sanneh asserted that youth unemployment is a major concern for NEDI and, as a result, NEDI is out to help young people and women to acquire skills and knowledge, and also to promote entrepreneurship development.
He added that their intervention would, no doubt, reduce the unemployment of young people in the country.
According to its coordinator, NEDI is also committed to ensuring that the young people are engaged in productive ventures such as farming, fishing, carpentry and other technical and vocational activities.
NEDI, Sanneh said, is working on building more partnerships to be able to meet the needs of more young people and women, thus empowering them.
He used the interview to call on the young people to change their attitude, since they are the future of the country.
He also went further to discourage young people from using the back way to reach Europe, adding that is a very bad slogan, and not the solution to the issues affecting young people. 
Read Other Articles In Article (Archive)