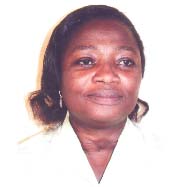 Ndow's Comprehensive Senior Secondary School on Friday 12th June 2009, held its annual graduation and prize giving ceremony, at the school's grounds in Bakau New Town.
Speaking at the ceremony, the Principal of the school, Ms. Florence Ampong, said the occasion was another historic landmark in the annals of the school.
She stated that the school have records, achievement and difficulties in the 2008-09 academic year and the School enrolled 575 pupils this year ,Grade 10 - 195 students, Grade 11 -  201students and Grade 12 - 179 students.
She further stated that the vision of her school is to make sure that many children as possible have access to quality secondary education.
She thanked her teachers for their commitment, hard work and dedication to duty, and she urged them to keep up the challenge. She advised the students to maintain discipline and tolerance in school and always take their education seriously.
She expressed gratitude to the proprietress, Mrs Harriet Ndow, and the Board of Trustees for their invaluable contributions, selfless devotion and immense support for the administration and staff.
For his part, the guest speaker, Nana Grey-Johnson, commended the growing thirst for education among students as is evident up and down the country, and urged them as young people to close ranks and glean the best out of every opportunity, abandoning traditions that stop girls from finishing their education, and instead embracing new ideas that move our development agenda forward. The Head Girl, Fatima Mboge, in her Vote of Thanks, expressed keen appreciation for the Guest Speaker's advice and exhortations for greater involvement and achievement in the academic and national development endeavour, while also thanking teachers and parents for their invaluable support.
The ceremony was attended by the school's proprietress, Mrs Harriet Ndow, the Chairman and Members of the Board of Trustees, the Chairman and Members of the Parent/Teacher Association, parents and guardians, and other distinguished guests.
The occasion was chaired by Mr. Amadou M.A. Loum, Academic Director at the Gambia Technical Training Institute.
Read Other Articles In Article (Archive)