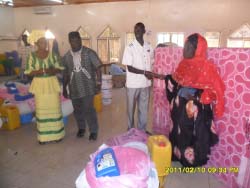 National Disaster Management Agency (NDMA) recently presented food and non-food items to disaster victims of Manjai Kunda, Dippa Kunda, Tallinding and New Jeshwang in the Kanifing Municipality.
The items presented to the victims were 13 bags of rice, 13 drums of oil, 13 packs of clothing, 13 5-litre bottles of bleach, 13 packets of soap and utensils, 13 mattresses, 26 packets of corrugated iron sheet and 10 buckets of paint.
Speaking at the ceremony, the Deputy Mayor of KMC, Yusupha Sanyang, thanked the Kanifing Municipal disaster coordinator, Binta Sey Jadama, for her efforts in offering helps to the disaster victims through the Municipal Disaster Committee.
The Council's role is to stand for the needs of its people, he noted, saying that people have confidence on his Council to change their lifestyles.
Deputy Mayor Sanyang said they would try their level best to meet some of the needs of the people in the municipality.
"What you will get here from the NDMA will not fully replace your damages but will ease your situations," he said.
Modou Lamin Sanyang, Kanifing Municipality Fire Officer, said that most of the fire incidents reported within the KM were caused by electricity fumigation and candle lights.
"Some fire incidents that occurred in February 2011 in New Jeshwang, Dippa Kunda and Bakau Wasulung Kunda were all caused by electrical short circuit and the two Tallinding fire incidents were equally caused by fumigation and candle respectively," he said.
Mr Sanyang called on parents not to assign their children to light candles since some children are not mature enough to carry out such assignments.
"As parents you must light the candle on your own for safety reasons," he says.
Kanifing Municipality Disaster Coordinator, Binta Sey-Jadama, advised the families that received the relief to be always mindful of fires.
She also urged people to desist from settling in water-ways and to be engaging in disaster risk reduction (DRR) for their own good, since assisting fire and flood victims is not a lasting solution.
Mr Mustapha Saine, a member of the Kanifing Municipal Disaster Management Committee (KMDMC), chaired the ceremony.
Read Other Articles In Article (Archive)