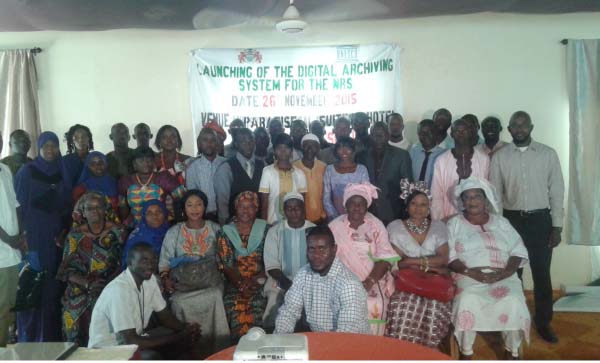 The National Record Service (NRS) Thursday launched a digital archives system for the digitalization of the fragile materials at the national archives.
The system, launched at a hotel in Kololi, was funded by UNESCO as some of the collections at the national archives are "gravely endangered" hence the need to preserve them for posterity.
Officials said the long-term storage brought in by the digitalization allows the country to preserve its cultural heritage, the governments to preserve institutional memory as well as build on past experiences.
The director of the NRS, Elizabeth Bahoum, said the project is expected to facilitate the first step in creating an online electronic archiving system to facilitate research.
This is expected to raise the image of the national archives and improve services to an expanding group.
She noted that in Africa today and The Gambia in particular, national archives are filled with materials recorded in analogue format.The archivists have to take the trouble of acquiring, organising, preserving and managing the collections, as well as making information readily accessible to searchers, she explained.
"This trend is rapidly changing due to advances in computer technology where physical documents are rapidly giving way to electronic print and online public access catalogue," she said."This removes the need for searchers to physically visit the search or reading room to access archival materials."
Mrs Bahoum explained that traditional archivists now have the opportunity to use modern technologies to provide much quicker, accurate and more complex services to clients, the searchers.
She noted that the creation and archiving of digital documents are emerging trends in today's archival profession.These are made possible by technological advancement, which provides greater opportunities and challenges to archivists.
The NRS director pointed out the challenges for long-term preservation of archival materials at the Gambia national archives.
These include the fragile state of documents due to their age (some of the documents date back to the 17th century), lack of trained personnel in digital archival preservation, inadequate storage space/ICT infrastructure, and restricted access to frequently used documents, she explained.
Sidi Bensouda of InSIST Global, an ICT firm, said the software system will help create employment for youth.
He said one of their company's main objectives is to engage the youth in having way to better their lives, adding that every year hundreds of youths graduate from the company's computer science program.
Read Other Articles In Article (Archive)