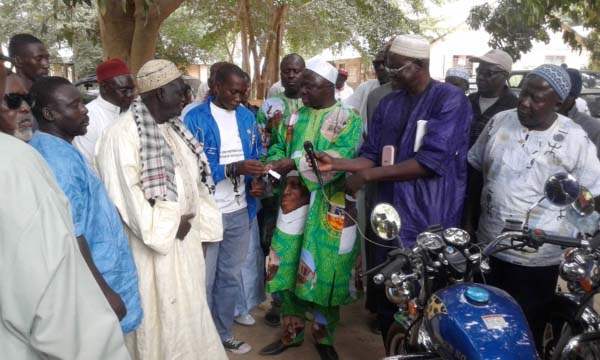 Njawara Agricultural Training Centre (NATC) has launched a project that aims to discourage indiscriminate sand mining on roads of the beneficiary communities in North Bank Region (NBR).
The project, launched on Wednesday at Njawara village, also seeks to enhance the degrading environment and livelihoods in the targeted communities.
It is supported by the European Commission Global Climate Change Alliance (GCCA) through The Gambia government under the National Environment Agency.
The overall objectives of the project include improving the knowledge and skills of 10 women fishmongers, 49 fishermen and 300 students in 6 schools in 3 districts within 5 communities in the NBR for the realisation of climate change effects.
The project targets youth, women, school children, and fishermen in Jokadou, Upper Badibou and Lower Badibou districts.
Speaking at the launch of the project, Governor Lamin Queen Jammeh of NBR applauded NATC for complementing the government's development efforts in enhancing food security and youth empowerment.
Aja Haddy Panneh, Alkalo of Njawara village, called on youth to make best use of the opportunity provided to them by the centre to improve their lives and livelihood.
Alhaji Mama Manneh, executive director of NATC, said the GCCA project dubbed 'Climate Change Environmental Adaptation Resilience Project' (CLEAR) offers a holistic and sustainable agro-ecological approach to address over-exploitation of sand.
Over-exploitation of sand causes excessive degradation of both uplands and lowland ecologies.It also erodes the natural sedimentation of sand deposits on gullies and roads that increases food insecurity, poverty and environmental degradation.
Chief Ebrima Ansu Tamba Jammeh of Upper Badibou on behalf of Kerewan Area Council thanked NATC for complementing the council's development efforts.
Alieu Barry, NBR regional youth coordinator, and Sheriffo Mboge, chairperson of NBR regional youth committee, said the project intervention is "a laudable initiative".
The duo said the project would enhance the capacity of youth to participate in productive sectors of the economy.
Similarly, Chief Fabala Fadia Kinteh of Lower Badibou, and Chief Jimfatma Jobe of Jokadou also applauded NATC for the foresight in developing the project.
The project will construct waiting sheds and fish smoking facilitates for women and storage facilities for fishermen.
It will also empower associations in NBR such as Marong Kunda Youth Group in Farafenni, Nuimi Foundation for Youth in Essau, and Toroba Youth Group with tri motor cycles and pressed-brick making machines to mitigate the effects of climate change and facilitate transportation of molded bricks.
The other component dubbed 'Community Initiative on Climate Change Mitigation' (CIoCCM) provides fishing boats, life jackets, fishing trays, 3 motor cycles, fishing nets, giant coolers for the fishing communities of Jokadou Bakang, Njawara and Conteh Kunda Nigi Baobolong to boost production and marketing of fish.
Read Other Articles In Article (Archive)