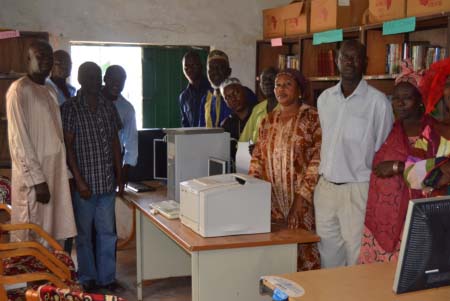 Former students of Muhammedan Lower Basic School in Banjul last Thursday made a donation of educational materials worth over D200,000 at a ceremony held at the school grounds.
The gesture, meant for the upgrading of the educational standard of the school, was donated by ex-students of the school who are now resident in Oslo and Bergen in Norway.
The materials included 5 sets of computers, printer and a photocopy machine, as well as the renovation of the school's kitchen and toilets.
The ex-students also donated a photocopy machine worth D120,000 to the Banjul City Council.
Speaking to The Point, the headmaster of the school, Alhagie Cham, thanked the donors for the gesture and assured them of proper care and usage of the materials.
He said the materials would go a long way in improving teaching and learning in the school as they used to encounter challenges especially in examination preparation, which would lead them to finding printers outside the school.
"But with the arrival of these materials, this will now be history and it will also help us to introduce IT to the students," he said.
Aja Fatou Samba, deputy headmistress, thanked the donors for the gesture, saying the renovation of the kitchen would help to ensure the students are served with quality cooked food.
Mayor Abdoulie Bah, on behalf of the people of Banjul, extended gratitude to the donors while assuring them that the machine will be in safe hands and used effectively.
The Mayor further commended the donors, saying that despite the challenges they encounter outside The Gambia they still have concern for their city back home.
He told the donors he became the Mayor as an in dependent candidate, but thanked the head of state for his intervention and support to see that the city is much developed.
The Mayor and the delegation further discussed the possibilities of joining hands together to cleanse the gutters, which will create a free floor of water, and fight against malaria.
Mayor Bah said that because the city receives thousands of people from across the nation in their various daily lives, there is need to ensure the city stays clean.
He further called for collective work, adding that his doors are always open for developments.
Alhagie M. Jobarteh, a member of the donors, said they deemed it vital to look back at their primary alma-mater in the 60s to inject back to help improving the educational standard of the school, adding that last year they funded the painting of the whole school.
Mr Jobarteh added that he and other Gambian friends who reside in Bergen and Oslo in Norway are involved in developing various sectors which include education in the country.
He further promised to continue the assistance, whilst thanking both institutions for accepting their gifts and expressed hope for a future fruitful partnership. 
Read Other Articles In Article (Archive)