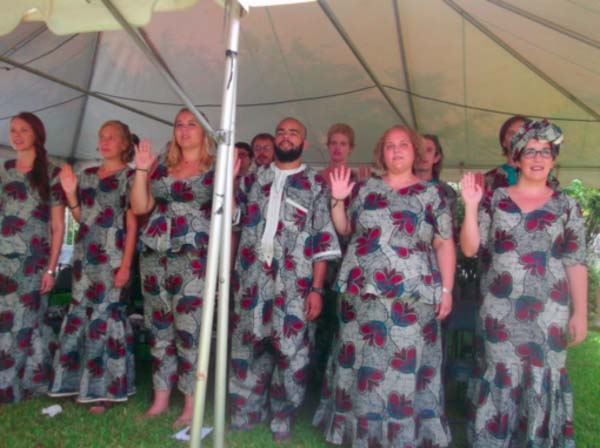 Fourteen United States Peace Corps volunteers sent to serve in The Gambia education sector in all regions of the county, were yesterday sworn in at a ceremony held at the US Ambassador's residence, 18 Atlantic Road, Fajara.
The swearing-in ceremony followed a 10-week pre-service training session on local language communication, which has deepened their understanding of the rich patterns that make up the Gambian culture. In addition, they also learned how to take care of their health, safety and security while in The Gambia.
This year marked the 54th anniversary since the establishment of Peace Corps in 1961, and the 48th anniversary of the partnership between Peace Corps and the Gambia government since 1967, with a continuing growth in partnership and an increment of number of beneficiaries from the PC volunteers services.
Speaking on the occasion, US Charge d' Affairs in The Gambia, Joseph Stafford, described the Peace Corps as a vital part of what the US does in The Gambia, since the Peace Corps programme began in the country in 1967.
He said more than 1,700 Peace Corps volunteers have served in the country over the years, in the Peace Corps programme, which is "a centerpiece" of US assistance efforts in the country.
Peace Corps Country Director Jennifer Goette, in her remarks on the occasion, said that since inception of the Peace Corps in 1961, the mission of the organization to promote world peace and friendship "remains unchanged" in a changing world.
She added that volunteers of the Peace Corps are united under the principle that development is achievable through common appreciation and respect.
She said that by the celebration of the cultural qualities that mutually exist among Americans and other people in the world, that development is nurtured by celebrating those qualities that make them distinct and unique.
The deputy permanent secretary at the Ministry of Basic and Secondary Education, Mohammed B.S. Jallow, in his remarks, said that since its establishment in 1961, the Peace Corps has continued its purpose of promoting world peace, understanding and friendship with its goals of helping people of interested nations in meeting their needs for trained men and women.
It also helps to promote a better understanding of Americans on the part of the people served, as well as to help promote a better understanding of other people on the part of Americans, "which is well known to everyone".
In the recent past, DPS Jallow noted, Peace Corps volunteers had made significant contributions at the level of management of the education sector and their contributions in the development of the EMIS and its continuous maintenance has been one of the major successes of the partnership.
He mentioned that the Peace Corps are also supporting the Ministry of Basic and Secondary Education in addressing the need to improve teachers, in the teaching of reading in early childhood development classes and grades one to three basic schools.
Read Other Articles In Article (Archive)