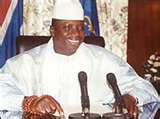 If the week-long ultimatum given by President Jammeh for the price of meat to be reduced is any guide, then the price of meat will by this week go down to D80 and D60 per kilo of steak and for meat and bone respectively.
Well, in this opinion poll carried by our reporter yesterday as to the reactions of the general public, many who spoke to The Point described the move by President Jammeh as a welcome development but some also expressed the view that the issue should be given a second thought.
"Thank God that the president has finally intervened to make sure that the price of meat go down in this country. The Gambia before and Gambia now are quite different. Living conditions in this country are becoming very hard now and unless the government take urgent action, we will all suffer," said one Agi Yamoundow Ceesay, a vendor at the Serrekunda Market.
According to a butcher who wants to remain anonymous, the ultimatum by the president will have a negative impact on many because, as he puts it, he would prefer not to sell his meat than to sell it on what he called a 'chicken change'.
"If not here, we can make it somewhere else. We cannot afford to sell our meat at D80 and D60 taking into consideration, the amount of money we spend on it. It is expensive," he said.
The Gambian leader is also reported to have emphasised that local authorities are authorised to deal with defaulters. He warned that any local authority which fails to ensure that meat sold in its region reflects these prices will be dealt with accordingly.
This, according to one Alieu Jagne, should be fully implemented by the president because, in his view, some local authorities do collaborate with the butchers for their selfish interests.
"Instead of monitoring the butchers, some local authorities will collaborate with them just to satisfy their own interest. The president should deal with anybody found wanting in such practices," he said.
For one Mariatou Camara, a housewife, the present living condition in the country needs the collaboration of all and sundry in ensuring that price stability is maintained in our markets. "Everything in this market is expensive and I think the ultimatum given by the president will be heeded to by the butchers to ensure that the price of meat go down. It should not also stop at that alone, the President should also try to make sure that the price of rice goes down. It is definitely expensive," she said.
For one Amadou Wurry Jallow, a supposed butcher, the price of meat can surely go down as highlighted by the President but not at this present moment. "Honestly speaking, the ultimatum given by the President is very short. He should at least give three to four months ultimatum but just to say that within one week, the price of meat should go down is really not favourable to the butchers," he said.
Read Other Articles In Article (Archive)