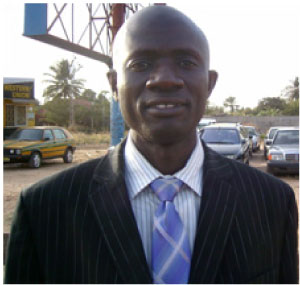 Within the framework of the inter-ministerial coordinating committee through the National Youth Service Scheme (NYSS), the Ministry of Youth and Sports has engaged 96 youths in agriculture.
According to a press release issued by the NYSS, this was borne out of the Ministry's desire and strategic development plan aligned with the Programme for Accelerated Growth and Employment (PAGE), to positively engage Gambian youths in agriculture for employment creation, skills acquisition and contribute to the national food self-sufficiency quest.
The release added that participating youths were drawn from across the country, and were deployed to various regions in which the training providers are located.
"The training is scheduled to last for four months and is meant to expose trainees to good agricultural practices, modern farming equipment and techniques, computer literacy, aquaculture, crop production and a host of other agriculture-related programmes," it added.
The training is done in collaboration with the Ministry of Agriculture, and the trainees are deployed to the NYSS Nyaniberi farm in Serekunda-nding in the West Coast Region, the NYSS Sapu farm in Central River Region, and the Chamen Agricultural and Seed Multiplication Training Centre in the North Bank Region.
According to the media dispatch, at NYSS Nyaniberi farm, 31 youths have been deployed for a four-month agricultural training course, during which they are to be trained on horticulture, vegetable production, beekeeping, cereal production, enterprise and management development and, hopefully, aquaculture soonest.
The release noted that these young people are accommodated and fed by the Ministry of Youth and Sports through the NYSS with a monthly allowance.
The release also revealed that 25 youths are presently undergoing training in various agriculture components and other relevant disciplines like computing (IT) and agricultural mechanisation rice production, livestock and aquaculture at the NYSS Sapu Farm in Sapu in the Central River Region and managed by NYSS personnel.
"This training is provided to youths in collaboration with Regional Directorate of Agriculture in Sapu, National Agricultural Research Institute, and Taiwanese Technical Mission," the release added.
"These institutions in collaboration with NYSS provide training in all the above areas, while they are also given a monthly allowance, accommodation and feeding in Sapu," according to the release.
The Chamen Training Centre in the North Bank Region, the release further stated, is presently having 40 youths deployed for a four-month long training in seed multiplication, cereal production, horticulture, farm mechanisation and entrepreneurship development.
"The trainees will be equipped with the requisite skills to enhance their employability, particularly self-employment ventures and enhance their skills in agricultural involvement for productivity and to boost production.
Similarly, the release went on, the trainees are provided with a reasonable monthly allowance, accommodation and feeding while undergoing the training in Chamen under the supervision of Chamen Training Centre management and NYSS management.
Read Other Articles In Article (Archive)