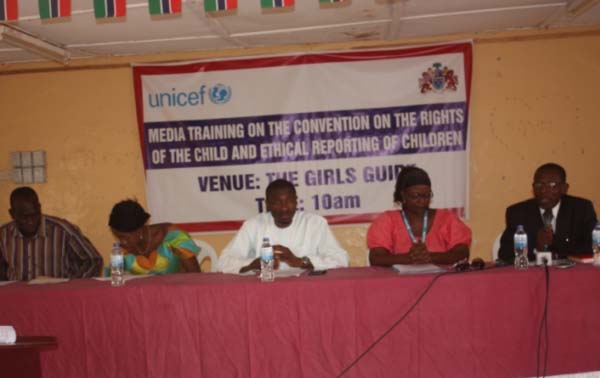 Media practitioners from both the print and electronic Wednesday attended a day's workshop on the Convention and Rights of the Child (CRC) and ethical reporting on children organised by the Ministry of Information and Communication Infrastructure in collaboration with UNICEF.
The training, held at the Girls Guide hall on the MDI Road, brought together journalists from across the country.
Speaking at the opening, the UNICEF communication specialist, Sally Sadie Singhateh, said the main objective of the refresher training on the UN Convention on the Rights of The Child and Ethical Reporting on Children, was to ensure the rights and integrity of all children continue to be protected when they are talked about in the media.
She said that although many of the media practioners are learned on the skills to report appropriately on children, especially those at risk, this she added was observed in the newspapers and radio stations, but new information on the protection of children is emerging every day and it is important that media practioners are abreast with such information, especially those new in the field.
She added that the media's support was needed to complement them in their endeavours by making sure the public, nationally and internationally, are aware of the work and gains being made in The Gambia, especially in reaching the children who are being left behind in development.
Lamin Camara, the permanent secretary of MOICI, said the training was aimed at training journalists on reporting and showcasing images of children at risks, as well as critical issues relating to the United Nations Convention on the rights of Children (CRC).
He added that over the years a number of donor organizations have deemed it necessary to provide variety of support to the media with particular emphasis on the local press.
He said despite their efforts, the capacity and effectiveness of the media on the reporting of child rights issues and in particular, the showcasing of the different disparities faced by children in accessing the very basic social service remains inadequate.
PS Camara said the role of media practioners in the implementation of Media Support to Advocacy Component is important because the media serve as a powerful tool supporting advocacy efforts of children and women by creating programmes, focusing on their achievements  and the remaining gaps, and bringing them into the spotlight.
 He said the Gambian media has joined the rest of the world's media to respect the guidelines which among others offer protection and privacy of children but these ethical standards are sometimes not adhered to.
The day also witnessed series of important and interesting presentations by Sadibou Jasseh, a child right specialist and Gibiaru Janneh of the Gambia Press Union.
Read Other Articles In Article (Archive)