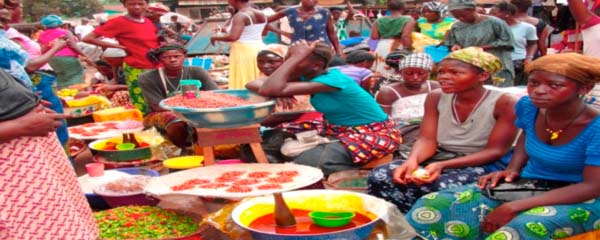 Women vendors around the Greater Banjul Area have appealed to President Yahya Jammeh to step down, as the political impasse is affecting lives and livelihood in the country.

As the political impasse continues with President Jammeh still holding on to his decision of not stepping down, and the Coalition preparing for inauguration of the president-elect, come January 19, various individuals, institutions, as well as local and international bodies have called on the incumbent to step down, and facilitate a peaceful transition of power to president-elect Adama Barrow.
The latest to appeal to the incumbent were the women vendors around the Greater Banjul Area.
Talking to this reporter, the women vendors complained that the business at the market is getting harder on a daily basis, as people are hesitant to spend, while non-Gambians are also leaving The Gambia for other countries.
At the Serrekunda Market, one Fatou Sonko said that since the incumbent delivered a statement on state TV on 9 December, that he had annulled the results of the December 1 presidential election, the market has not been the same again, with prices of foodstuff rising on a daily basis.
They are left with no choice, but to increase prices of their commodities too to meet the current trend of price hikes of especially basic food commodities, and take care of their family needs, she said.
She sells smoked fish which was very cheap, but since the change of the political tempo in the country they have been compelled to sell three (3) smoked fish for D20, "not because we want to do so deliberately; it is because of the situation we have found ourselves in."
Since a lot of young people have embarked on irregular or illegal migration to Europe, those who go to fish nowadays are mostly non-Gambians, she went on.
The moment they sensed there might be serious conflict due to the decision made by the incumbent, those people too have been packing and leaving for their or other countries, she added.
"If all those fishermen return to their homes, it is likely that we may not even see fish at all to buy, and if there is any it will be very expensive.
"His decision to hold onto power will bring us nothing but conflict, and we the women are the ones who are going to suffer the most. So I am appealing to him to step down so that we can eat, drink and sleep in peace."
Binta Marong, another vendor at the market, said things are very bad these days, and even food items that are made locally like "Daharr" are hardly seen these days. "We can only get them from the neighbouring countries."
"Even other important ingredients that women buy to add to food for lunch and dinner are every day missing as well," she said.
They as vendors are, therefore, pleading with President Jammeh to accept the election result, and let the country go through a smooth transition and governance.
Lamin Njai, a butcher at the market, said meat is also very expensive these days, because most of the livestock owners are taking their livestock and family out of the country, and businesses are closing down on a daily basis.
"This is all happening because the country's peace is being threatened and people are fleeing for their lives. The incumbent and the president-elect should try to put Gambians first, and resolve the issue before it gets out of hand."
The more people leave the country the more the country would run out of food, and hunger is more dangerous than war itself, he further noted.
"I am appealing to President Jammeh to step down the moment his term expires, and allow a peaceful transfer of power to his successor."
At Westfield Junction, young ladies and men who walk into restaurants at night to get something to eat for dinner, especially those that love to buy half chicken and chips, complained that prices of food at restaurants have risen unexpectedly.
This situation would make business dull for restaurants, and restaurant workers like them would lose their jobs, she explained.
She said as a young person, she is appealing to the incumbent to step down and allow the president-elect to assume his duty, so that lives and livelihoods of Gambians will be protected.
Mama Touray, a housewife, told this reporter that D50 could no longer sustain a single parent and a child, talk less of a large family.
"Women are suffering a lot these days, because there is nothing at the market and, as the situation shows no signs of dying out soon, there is a likelihood of food shortage," she said.
She, therefore, appealed to President Jammeh to step down for the sake of the Gambian people, especially the children.
Read Other Articles In Article (Archive)