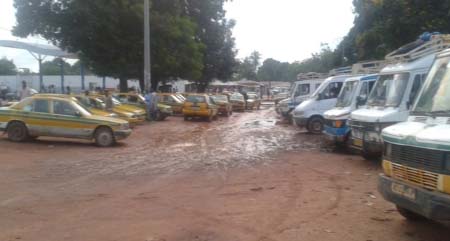 A new car park has been inaugurated in Mandinaba, Kombo East, bringing to possibility the peoples' year's long demand for a breakdown of fares between Brikama and Faraba.
The car park was inaugurated on Sunday by The Gambia National Transport Control Association, with a new fare pegged at ten dalasis (D10) against the previous D15. 
The inauguration of the car park became possible after the people of Mandinaba, Serrekundanding and Misiranding lodged an appeal to the Gambia National Transport Control Association for paying equal fares with people travelling to Pirang and Faraba.
According to them, Mandinaba, approximately 4 to 6km from Brikama, should not be paying equal fares with those travelling from Brikama to Faraba, which is about 12km from Brikama.
Six car owners from Mandinaba have already volunteered their cars to ply Brikama to Mandinaba for D10 but some taxi drivers at the Brikama fire service car park have condemned the new development, describing it as an attempt to stamp down their source of living.
Lamin Darboe, public relations officer of Mandinaba Village Development Committee, said: "For quite some time now, we were painfully paying exorbitant fares of D13 against our will. Situation got worst and unbearable for us when we were asked to pay D15 to and from Brikama for such a short distance of only 4 - 6 km with a first-class road."
According to Darboe, they are aware that transport fares from Brikama to Serekunda (destination) exist but transiting communities like Farato, Yundum, Lamin and Tabokoto are on a separate tariff, saying if the plight of those communities are considered despite being cosmopolitan, where majority are believed to be well-off, the poor must be considered for similar flexible tariff plan than the current rigid tariff of D15 across the board.
The director of Trade at the Ministry of Trade, Regional Integration and Employment, Abdoulie Jammeh, said fare control in the country is solely in the hands of the Gambia National Transport Control Association, which they have been doing effectively.
The public relations officer of the Gambia National Transport Control Association, Alieu Ngum, assured of his office's strong commitment for the development of the car park.
He clarified that the high tariff Mandinaba and other villages are paying "is not the fault of neither the government nor the transport association but the drivers and the people themselves".
Ngum told the gathering that "government does not allow taxis to take more than D10 for distances that are not more than 6km", saying the opening of the new garage and the reduction of the fares was done in a way that would not affect both the drivers and the people, who pay fares.
"We will find it difficult to justify if we are asked by authorities why the fares from Mandinaba to Brikama is D15," he said.
Mr Ngum further reminded the people after the car park was inaugurated, they must abide and respect the laws and principles that guide the operation of the car park. 
Lamin Sarr, head of the Brikama fire service car park, said they are against the act of people travelling from Mandinaba and other villages paying equal fares with others from Pirang and Faraba, which has been going on for years.
Sulayman Badjie, Alkalo of Serrekundanding and Bafoday Sanno, representative of the Alkalo of Mandinaba, both welcomed the new development, saying "it is a step in the right direction".
Yaya Njie, chairman of Mandinaba Village development committee, said the cost of fares became their urgent concern because all their children in their junior, senior and tertiary institutions always travel to Brikama, and some families have over three children going to school.
"Therefore, the financial implication on these poor families is unbearable and can lead to children dropping out from school," he said.
According to him, the affected communities have no major market to buy their daily consumables and sell their goods as most of the inhabitants are engaged in subsistence agriculture living from hand to month.
Other speakers at the inauguration were Karanlang Jawneh, Amoro Jarju, Ebrima Jammeh and Musa Manneh, who all welcomed the development and described it as a major bolster in relieving them from a burden they had been suffering from for a long time. 
Read Other Articles In Article (Archive)