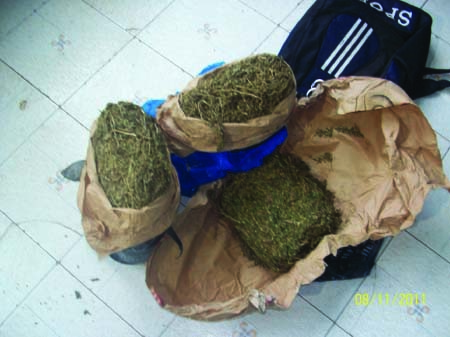 Officers of the National Drug Enforcement Agency (NDEA) have arrested one Alieu Bojang, a resident of Farato, who reportedly implicated his brother, Modou Bojang, with drug-dealing and possession.
According to the agency, it happened on 15th June when the accused person implicated his brother, who happens to be the alkalo of Farato village, by reporting that he was dealing in drugs kept in his bathroom.
Speaking at a press conference held at the NDEA offices in Banjul yesterday, NDEA public relations officer ASP Abdoulie Ceesay said the accused made the allegation to the NDEA and that, upon receiving the information, a team of NDEA officers was dispatched to Farato.
Upon arrival, the officers met the alkalo and searched his house, during which two parcels of suspected cannabis were found in his bathroom.
"The alkalo was arrested and taken for further investigation, but during the investigations it was realized that the informant Alieu Bojang planted the drugs in his brother's bathroom," the PRO said, adding that the informant subsequently confessed that he was the one who put the drugs in the alkalo's bathroom.
Ceesay told journalists that Alieu Bojang was later charged with possession and dealing in prohibited drugs.
In another development, Juan Carlos Moreno, a Bissau Guinean, was arrested on 16th June 2011 by officers of the Police Intervention Unit at Brikama College checkpoint on board a vehicle.
According to PRO Ceesay, he was searched and three pallets of cocaine were discovered in his possession.
Moreno was then arrested and taken to the Brikama NDEA office. He has since been charged.
The NDEA spokesperson also informed journalists that one Baboucarr Sowe is currently in custody, after being in possession of prohibited drugs.
Sowe, he said, hired a taxi, which arrived at the Jambanjelly-Sanyang police checkpoint. The vehicle was searched, and a black bag belonging to him was found containing three bundles of suspected cannabis equivalent to 5kg, at the boot of the vehicle.
Read Other Articles In Article (Archive)