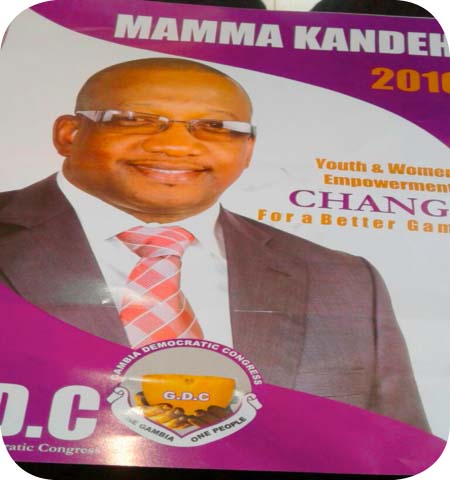 (Wednesday July 20, 2016 Issue)
Mama Kandeh, leader of the Gambia Democratic Congress (GDC), has said that come the 2016 presidential election, if he is voted into office, he would build "a better Gambia".

The GDC leader made this statement on Monday at the Tallinding Buffer Zone while addressing a political rally, saying the GDC has come to remove the country from hardship and bring developmental projects for everyone to benefit.
"GDC is here for peace," he said.
He called on every leader to fight for peace, saying the aim of the GDC is to unite people rather than to divide them.
"The Gambia is a small country, and all of us should pray for peace because it is only through peace that we will be able to develop the country," Kandeh told his supporters.
On agriculture, the GDC leader told party supporters that a GDC government would change the system of agriculture the country has, and would introduce a system that would benefit everyone.
Kandeh added that he would not force anyone to go and work for him.
He further informed his supporters that due to the hardship in the country, "everybody has become a beggar", which is not a good sign for the country.
He said people of the country need change, and come 2016 Gambians would have a change in the country.
Dilating on international relations with other countries, Mama Kandeh noted that the bilateral relationship with The Gambia and other countries "is very poor", because so many embassies had been moved from the country to other countries, "which is also a big problem for Gambians looking for visas".
Mama Kandeh added that when the GDC comes to power, they would build bilateral relations with many countries, as well as work amicably with neighbouring countries.
The GDC leader also called on the country's security forces to "be neutral", because they are here for the Gambian people, and promised that when GDC comes to power he would remove them from hardship.
He added that a GDC government would have a package for them, and many would be sent out to serve humanity and restore peace in other nations such as Darfur so they would benefit themselves and their families.
The GDC leader also talked about the capital city Banjul, saying it is "one of the worst capital cities in the world", adding that Banjul should have been the best capital, but "it is very unfortunate because "not even good roads" are found in Banjul and "the people of Banjul need to live in a clean environment".
The GDC leader said when he assumes power his government would respect human rights, adding that all those Gambians who are outside would be asked to come back, because "we need them".
In the area of education, the GDC leader said when he assumes power he would build more universities, and maintain quality education for the people of The Gambia.
Read Other Articles In Article (Archive)