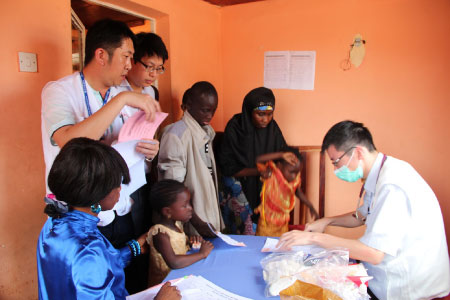 A team of six medical and nursing personnel from Mackay Memorial Hospital (MMH) in Taiwan, from 15 to 24 May 2013, visited The Gambia to offer free medical services to the sick.
During the course of their stay the team was able to successfully complete their mission, by delivering medical services at Serekunda Hospital from 16-18 May; Jammeh Foundation for Peace Hospital from 20-21 May; and Brikama Major Health Centre from 22-24 May.
The team also provided surgical services at Serekunda Hospital between 16 and 23 May.
This was the fifth time MMH medical team came to The Gambia since August 2010, demonstrating long-standing commitment of both the governments of the ROC (Taiwan) and The Gambia to promote the well-being of Gambian people.
The team paid courtesy call on the Ministry of Health and Social Welfare on 16 May, where they were formally received and welcome to the country.
Inspired by the core value of "Burn out oneself, rather than rust out", MMH overseas mobile clinic has delivered medical goods and services to over 15,000 people in Africa, Asia-Pacific, and Caribbean countries from 2006 to 2012.
According to the team members, MMH is always willing and honoured to come back to The Gambia to provide medical services for the Gambian people.
The visit of the team is since 2010 being co-organised by The Gambia government and the ROC (Taiwan) Embassy in The Gambia. And this time around, there are almost 2,000 Gambians, who were diagnosed, while 19 patients received surgery from the medical team.
For this great achievement, the Permanent Secretary Mrs. Matilda Bouy, on behalf of the Ministry of Health and Social Welfare, expressed appreciation to the ROC (Taiwan) government and the MMH. The team is also expected to deliver other medical services in The Gambia before the end of the year.
Read Other Articles In Article (Archive)