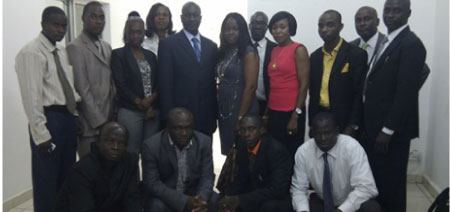 A team from the Liberia Public Procurement and Concessions Commission (PPCC) has arrived in the country on a five-day study tour of the Gambia Public Procurement Agency, GPPA.
The delegation is headed by Ms Peggy Varfley Mere, Chief Executive of the PPCC and other members, including the director of information and communication, acting director of compliance and  monitoring and other PPCC officials.
They are on a study tour to understand the Gambia's procurement system, and see what challenges they could learn from their Gambian counterparts, as well as the opportunities at work.
Speaking in an interview yesterday at GPPA House along Kairaba Avenue, Tumbul K. Danso, Director General of the GPPA, said the study tour was undertaken by staff of their sister institution from Liberia to understudy Gambia's system and operations as part of South-South cooperation.
According to Danso, African institutions are nowadays being advised to look inwards to the neighbouring countries, where they can be able to arrange study tours, among others, to learn about each others best practices.
He explained that public procurement is increasingly emerging as an important agenda in all countries.
"We spend a significant proportion of our public wealth to procure goods, works and services, hence huge sums of money are spent on the different sectors, and businesses are competing for opportunities provided through government spending," he said, adding that the wider public is also interested in the delivering of services in an efficient, effective and economic manner.
'Over the last couple of years, many African countries in collaboration with the World Bank have undertaken public procurement reforms aimed at ensuring a transparent, fair and efficient public procurement system, which is capable of achieving the best value for money, and the GPPA is no exception to this rule,' Danso stated.
'The visitors are here to exchange notes with us, look at some of the best practices such as the strategies used by the GPPA to ensure compliance, the public procurement rules and regulations, and establishment of procurement cadre, among others,' he added.
The GPPA boss lauded the move by their Liberian counterparts, and expressed hope that his institution will also in the near future reciprocate the visit.
"I must say this is an opportunity for our staff and the country as whole to feel recognized by sister institutions in other countries," he said, adding that the GPPA has seen a lot of improvement in its activities as it is currently responsible for about 172 procurement organizations including parastatals, government ministries and departments.
"We are encouraged by the support from government as well as National Assembly because without such support and political consultation from the highest level, we will not be able to achieve our objectives," he stated, while emphasizing that public procurement is not a witch-hunt but a move geared towards seeing transparency and accountability in business operations.
Ms Varfley Meres of the PPCC said they are in Banjul on a study tour to understand the Gambia's procurement system, and see what challenges they can learn from their Gambian counterparts as well as the opportunities at work.
"So far we have gone through the overview of Gambia Procurement Act; if we look at some of the systems, we believe they would also be of benefit to us in Liberia," she stated.
According to her, one of the main reasons why they came to The Gambia was to look at the data base of registering system that the Gambia currently already has in place, where they register all data of the contractors, which they are lacking in Liberia and which is greatly needed.
She stated that among other things they can learn from Gambia are ways to strengthen the compliance mode as they would want to know what drives compliance here in Gambia compared to Liberia.
Africans as a whole, she added, needed to be able to tap into each other's experience, noting that this is one thing that is lacking on the African continent.
"We depend too much on donor's aid as opposed to learning from each other," Ms Peggy noted.
Read Other Articles In Article (Archive)