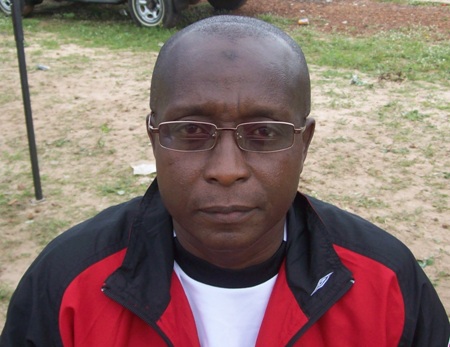 To our beloved: H.E. President Sheikh Professor Dr Alhagie Yahya A. J. J. Jammeh
Your Excellency,
As a member of the football family, I would like to seize this opportunity to express my appreciation to you Mr President for putting Gambian football on the global map. 
Sir, your desire to move forward sports and football in particular has always been manifested by words and actions.
Gambian football has clocked 58 years of existence but the game we all love would have been in the doldrums without your personal intervention as the game was at a crossroad with numerous administrative crises over the years.
HISTORY
Mr President, football was first kicked in this country in 1940 when the first football league was formed called the Bathurst league, with teams such as UAC, GAMBIA UNITED; RAINBOW, AUGUSTINIANS, POLICE, GAMBIA REGIMENT and MEDICAL XI registered.
It was 12 years after that Gambian football was officially affiliated to the Federation of International Football Associations (FIFA) and Confederation of African Football (CAF).
Mr B.O. SEMEGA JANNEH was the first elected GFA President in 1961 and under his leadership was the famous Gambia victory over Senegal in Dakar when Mr O.K.SAHO was the national team manager.
In 1969 Gambian football witnessed its first administrative crisis and there was a breakaway of teams. In 1987/88 after numerous efforts by football authorities to move the game forward but without any progress, which was mainly galvanised by humiliating defeats at international level, the then sports minister, Mr B.B. DARBOE, decided to dissolve the football federation and Mr JAMES IBRAHAM was appointed as the interim FA President with KEBBA YORRO MANNEH the secretary General.
After the elimination of the Gambia in 2003/04 African Cup of nation's qualifiers against George Weah's Liberia, a GYRA LAMIN commission of enquiry report recommended the sacking of the entire national team with the technical staff. However the commission's decision to bar the national team from international competition angered the football fraternity and thus called for the impeachment of the FA President Mr ALHAGIE GABBI SOSSEH.
An interim executive committee was elected headed by Mr ALHAGIE OMAR SEY as the President, assisted by Mr SEEDY KINTEH, the current GFA President.
TURNING POINT
Mr President I would remember vividly when you decided to take the bull by the horn and called on all stakeholders in football to fasten their seatbelts to join the football revolution as you did, that faithful day of July 22, 1994.
Many great philosophers pointed out that life is a dream. But the fact that life is a dream does not mean we should imitate all those people who spend their time day dreaming. You can live in such dreams but not the disjointed, aimless dreams inspired by sensuality, wanton desires or sloth.
Mr President, one of your visions was to validate conscious dreams of our youth folk by inspiring their ambitions with self-worth since the future of every nation is based on its youths.
An international tournament called the "PEACE TOURNAMENT" was on the offing, and being a new idea Gambians had mixed feelings about your intension. Someone who wishes to make serious progress in life must begin by cultivating his or her sensitivity towards his creator. Focus, steadfastness and commitment towards your vision was underlined by 'THE LOVE FOR THE YOUTHS OF YOUR COUNTRY'
A country with a productive and passive youth folk is vital to the development of a healthy nation as well as enhancing youth empowerment. Your continuous unflinching support and gestures for football has taken Gambian football to another dimension as youths of this country are toiling to become great footballers.
ACHIEVEMENTS SINCE THE FOOTBALL REVOLUTION
•           PEACE TOURNAMENT 2005 WINNERS
•           CAF UNDER 17 CHAMPIONSHIP 2005 WINNERS
•           FIFA UNDER 17 WORLD CUP (PERU 2005)
•           CAF YOUTH CHAMPIONSHIP CONGO 2007 BRONZE MEDALISE
•           FIFA WORLD YOUTH CUP (CANADA 2007)
•           CAF UNDER 17 CHAMPIONSHIP WINNERS (ALGERIA 2009)
•           FIFA UNDER 17 WORLD CUP (NIGERIA 2009)
•           CAF UNDER 17 CHAMPIONSHIP RWANDA (2011)
•           CAF YOUTH CHAMPIONSHIP (LIBYA 2011)
Mr President you elevated Gambian football to all the five continents since each and every continent on this planet suffered defeat at the hands of tiny Gambia. Not to mention the 3 goals to one victory against Mighty Brazil in 2005 (AMERICA'S), Qatar 2005, (ASIA) Portugal in Canada 2007 (EUROPE), New Zealand 2007 (OCEANIC).
Mr President, the football family owes you big thanks for putting Gambian football on the global map. May Allah continue to guide and protect you and your government in order to realise the lofty dreams that you envisage for the good of this blessed nation.
            Mr Kabba Ceesay
               FIFA Licensed
            Players Agent
Read Other Articles In Article (Archive)