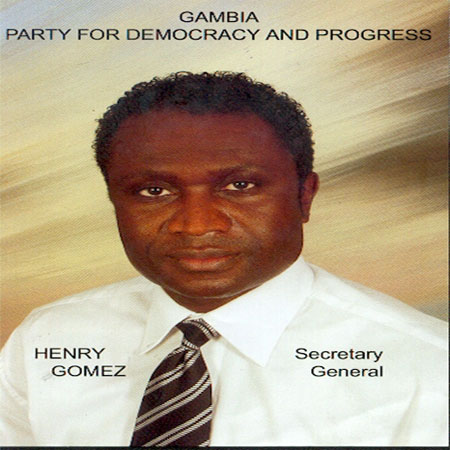 Mr. Henry Gomez, leader of the opposition Gambia Peoples Democratic Party (GPDP) has called on all Gambians to put aside their political differences and work together for the development of the country.
In his New Year's message, Mr Gomez appealed to all Gambians to forget about the past and work as one for the betterment and progress of the country, noting that nobody will come from outside and develop this country for us.
"As we move away from one year to another new year, I would like to call on all Gambians irrespective of their political affiliations to come together and work for our own good; that is for the development of our country," he said.
According to the GPDP leader, Gambians should apologise to each other for anything that has happened. "We should also be willing at all times to support each other," he added.
For Mr Gomez, the GPDP is apologising to everyone for anything that it might have done wrong either intentionally or unintentionally.
"We should also be ready to always work with the incumbent government because we can in one way or the other contribute our quota to national development despite having different political affiliations.
"Lets forget the past and work for a better Gambia. The country belongs to us and we are the only ones that can develop it.We should open a new page and come together be it the opposition or the government," Mr Gomez asserted.
He also expressed on his behalf and on behalf of the GPDP party, special Christmas and New Year's greetings to all Gambians. "We are also looking forward to seeing new developments in all aspects of society most especially on our economic status".
Mr Gomez also went further to call on the rich to help the poor whenever the need arises. He also called on all and sundry to support the security forces in the country to ensure a peaceful and safe environment. "Yes they cannot give us 100% security but with all hands on deck, everybody will be safe in this country," he posited.
Read Other Articles In Article (Archive)