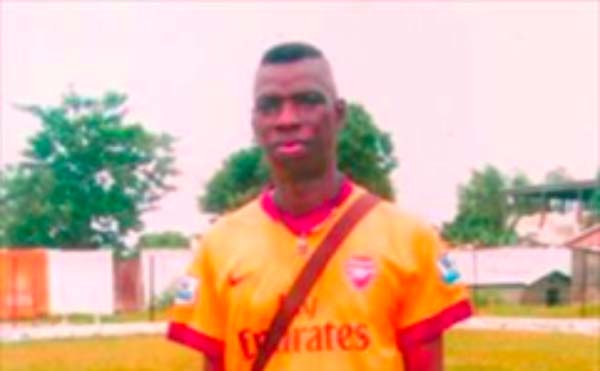 Sierra Leone national team in The Gambia (Leone Stars) on 29 April 2015 beat the Nigerian national team in The Gambia (Green Eagles) 4-3 on post-match penalty shootout following a goalless draw on regulation time to win the friendly game played at the Father Gough Sports Complex in Manjai Kunda as part of events marking the 54th Independence Anniversary of Sierra Leone.
Speaking to reporters shortly after the encounter, Albert Buckle Koroma, head coach of Sierra Leone national team in The Gambia, said the game was really difficult because they met a more experienced opponent.
But with the help of God and the efforts of his boys they were able to emerge victorious, he added, while expressing delight with the way they won the game.
Coach Albert said the victory and trophy is dedicated to their fans as they are always with them giving them moral support.
I had double mind at certain stage on whether they were going to win the game because they only had few days to prepare, he went on, saying his boys really impressed him as they worked according to plan.
Julius Basse Kamara, team manager of Sierra Leone national team in The Gambia, also described the game as difficult.
They played well in the first period but were under pressure after making substitutions in the second half, he pointed out, adding that most of their boys were new but "will be more fit by next year".
"By the grace of the Almighty we intend to stage a 6-nation tournament next year," he added.
Andrew S. A. Kamara, Head of Chancery at Sierra Leone Embassy in The Gambia expressed delight that the trophy donated by the Sierra Leone Embassy as part of activities marking the 54th Independence Anniversary of Sierra Leone was won by Leone Stars.
He was also happy that the Nigerian Green Eagles did very well by competing in the "wonderful friendly", he added, saying that unavoidably the Ambassador of Sierra Leone to The Gambia could not attend and on his behalf he thanked all the competitors, fans and everyone who contributed to making the tournament a success.
Mike B. C. Ezeji, head coach of the Nigerian team in The Gambia, said he was amazed at the turnout, as a lot of people went to watch the match.
They only had two days to prepare for the game without a test match, he stated, saying it is not easy for any coach to play the way they did under such circumstances.
They dominated the second half but luck was not on their side to get the goals, he said, adding: "Sierra Leone gave us the game in the second half but we could not take it."
They hope to do better next year, he said.
Read Other Articles In Article (Archive)