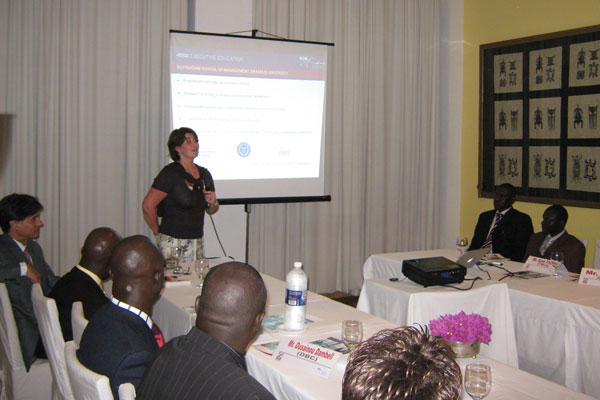 At Reliance Networking Event
The world economy is going through a gut wrenching recession and transformation as the credit and financial crises in every industry takes its toll on companies both big or small. But how do leaders in general and in such turbulent times bring out the best in their employees, how do they motivate, educate and create opportunities to stay ahead of the game where others only see problems?
Well, this was the centre of discussion at a one day leadership and business networking event organised by Reliance Financial Services. Reliance a leading first non-bank financial institution in the country in collaboration with Rotterdam School of Management, ErasmusUniversity, Rotterdam held at the Coconut Residence in Kololi.
The event, which brought together a diverse representative of all real players of the Gambian economy, availed participants the opportunity to discussleadership from global and local perspectives, interact, debate and share ideas on how they can restore confidence in their respective customers.
In his welcoming remarks, Mr. Baboucarr Khan, chief executive officer, Reliance Financial Services described leadership as a very significant topic for discussion in this current situation.
He dilated on the impacts of the current global financial and economic crisis, which he said is blamed on how finance is being managed. This, he added, cuts across the lives of each and every individual in the world.
Two consultants namely Boudewijn Bertsch and Nanna Kies from Rotterdam School of Management shared their insight on what they have learned from some of the best leaders from various cultures, companies and industries over the past 25 years. They dilated on how one can innovate with what he or she already has, how great leaders marry cost improvement with smart education.
This was followed by an interactive question and answer session by participants ranging from senior executives of companies and government institutions. The event was graced by Hon Sheriff Gomez and Hon Abdou Colley, Secretaries of States for Youth and Sports and Trade, Industry and Employment respectively.
Read Other Articles In Article (Archive)