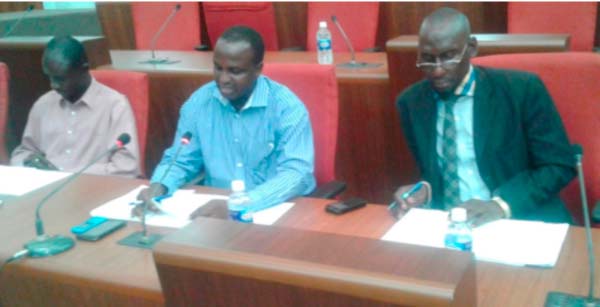 The joint-session of the Public Accounts and Public Enterprises Committees (PAC/PEC) of the National Assembly yesterday adopted the annual activity report and financial statement of the National Audit Office (NAO).

In his remarks, the National Assembly Member for Illiasa, Hon. Lamin K. Jammeh, thanked the board and management of the NAO for their good report.
He said the Audit Office should provide a petty cash book to provide information, among other things, all the time.
The Majority Leader and the National Assembly Member for Serrekunda East, Hon. Fabakary Tombong Jatta, in his contribution, said an efficient audit would entail unnecessary expenditure.
He said it could only happen if the basics of the National Audit Office are met and so, as a government, they should look at that issue critically.
The Majority leader further added that the issues of recruitment and retention of professional staff and transport for government institutions are found from Koina to Kartong.
On vehicles, according to the report, there were only three vehicles, and it was asked why vehicles should be a hinderance to the Auditor General who should be able to perform effectively and efficiently.
On the commandeering of vehicles and the issue of land, they were tasked to work with the local government committee to be able to iron out the problems sooner.
Responding to all the comments and queries posed to them by deputies, the Auditor General, Karamba Touray, said they need to identify all the problems and see the best way to tackle them.
Touray added that on the issue of vehicles, there were about four vehicles but now only two were left, and he is using one of the vehicles.
On land, he said their land issues had still not been resolved because of other issues, but they had already engaged both the Ministry of Local Government and the President's Office on the matter, and arrangements have gone far.
"The issue of recruitment and retention of staff has always been our problem, and I even reported the matter here. We were not on government salary and our board met, but the salary package we proposed begins January 2017 from the Ministry of Finance. Hopefully, this will help to retain our staff," he said.
Read Other Articles In Article (Archive)