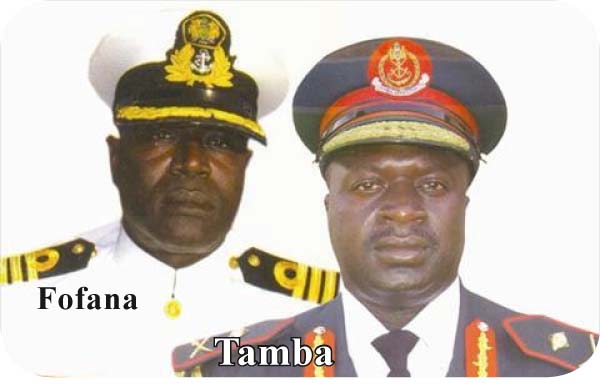 The former chief of defence staff, Lt. General Lang Tombong Tamba, and ex-chief of naval staff Rear Admiral Sajor Fofana, yesterday appeared before a five-member panel of judges headed by the Chief Justice at the Supreme Court of The Gambia.
The two former army chiefs are appealing against their conviction and sentence by the High Court in Banjul, which convicted and sentenced them to various jail terms for treason-related offences.
When the case was called, Lawyer S.M. Tambadou represented Lt General Lang Tombong Tamba and Lawyer L.K. Mboge represented Sarjo Fofana, while DPP S.H. Barkun represented the state.
L.K. Mboge said there was a motion of notice he had been served with by the state to regularize the motion, which he wanted to reply on as he was served in court.
He said he wanted to reply to the briefs on the next day.
However, SM Tambadou said the DPP filed out of time, but he did not need to file anything.
The judges granted L.K. Mboge's request to file a rejoinder by tomorrow, and the case was adjourned to 29 April 2015, for adoption of briefs and hearing.
The former chief of defense staff Lt General Lang Tombong Tamba and former chief of naval staff rear Admiral Sarjo Fofana were convicted for treason and sentenced to 20 years in prison.
The former senior military chiefs were found guilty on four counts of treasonable indictments in connection with the 21 March 2006 abortive coup, alleged to have been masterminded by the former chief of defence staff, Colonel Ndure Cham.
Lang Tombong Tamba, it would be recalled, is currently serving a life sentence along with seven other men in connection with a 2009 coup plot.
The former military chiefs were sentenced on count one, which was conspiracy to commit treason, to 20 years in prison and on count two, which was treason, to another 20 years in prison.
Lang Tombong Tamba was also sentenced to 10 years in prison on count three, which was concealment of treason, and on count four, which was treason, to another 10 years in prison.
Read Other Articles In Article (Archive)