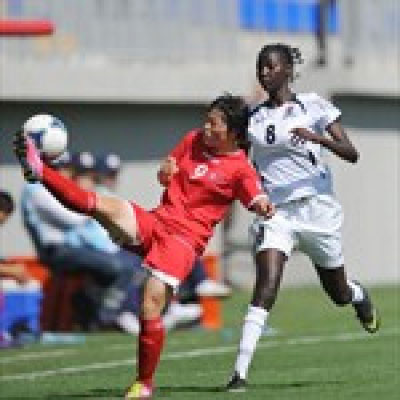 Gambian women U-17 coach Buba Jallow has said Korea DPR are an experienced side unlike The Gambia.
The Gambia U-17 fell 11-0 to Korea DPR on Saturday, in Baku, in the opening of the FIFA Women's U-17 World Cup.
"This is our first time in World Cup competition, and you all know this is football; you win, loose or draw. I was expecting to win or draw the game as winning the first game was important but I was not expecting this defeat," Coach Jallow said.
Asked if the preparation he had before the tournament was good, he responded: "The preparation was okay because that's what we have but I can tell you this game was an eye-opener for us. We just have to prepare better for the USA."
The defeat has sent The Gambia bottom of group B with no point but group members. USA and France, each with a point, are trailing behind Korea who are so far leading with three points.
Korea, winners of this tournament four years ago, were far too heavy for their West African opponents, who are appearing at a major FIFA competition for the very first time.
Ri Un Sim and Ri Kyong Hyang both bagged trebles as one of the genuine contenders for the title sent a message to section rivals France and USA against admittedly shell-shocked opponents.
They will now face France on Tuesday while The Gambia will attempt to resurrect their campaign against USA on the same day.
Korea DPR coach Hwang Yong Bong said: "I am obviously very happy with the result and the score, but we have two more games ahead of us and we have to give our best in each of them. The first match was very important to give more experience to the girls and this is a process that will continue in the next couple of games. We won because my girls played collectively. The Gambia is not a weak side at all and some of their players did quite well today, but the first match is always tense."
Read Other Articles In Article (Archive)