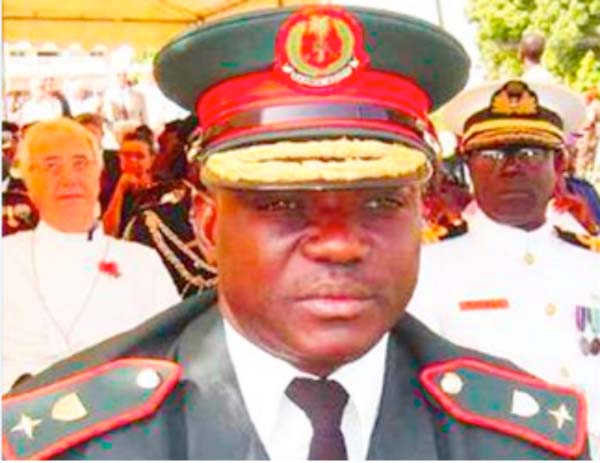 Lieutenant General Masanneh Kinteh yesterday Monday 27 February 2017 took over as Chief of Defence Staff from Ousman Badgie, who was redeployed to the foreign service.

Speaking to reporters at Defence Headquarters in Banjul shortly after the handing-over ceremony, CDS Kinteh thanked Allah the Almighty and President Adama Barrow for choosing him to return to the country, after being away for nearly four years, to lead the Gambia Armed Forces. He added that he was honoured by the opportunity.
According to Kinteh, the government has plans for the country's armed forces, which include reforming, restructuring, as well as transformation which they think are crucial to be carried out.
He said he will spare no effort on time and self to get that task done, adding that with the collaboration and support from partners it is something they can achieve within a short time.
His immediate priority as CDS is to restore confidence in the troops to lift their morale, as well as bring back the civil-military relations, which has eroded over the period as a result of the political impasse.
"I want to make sure we get over that huddle, and make sure soldiers come out of their self and see themselves as citizens of this country who are to be respected, admired and be role models."
He added each and every soldier comes from a house and has left family members and, as such, there is nothing extraordinary about the soldier.
This, he went on, is the image they want to bring out of all soldiers, so they see themselves as citizens first, as well as an embodiment of protection and not someone preying on the weak and innocent.
He took time to thank the outgoing CDS Badgie for being able to hold the staff together.
Kinteh said his other key priority is to see that the peace and stability of The Gambia is maintained.
He reassured the public that they are ready to work with all communities, institutions and individuals in the county in ensuring that the country builds a very good civil-military relationship, so the social contract that the armed forces has with the wider society is given the due recognition by both the army and civilians.
"The armed forces will be lifted once again to very higher heights," he continued, adding that civil-military relations is key in this new dispensation, as the government wants to make sure the armed forces are professional and are ready to serve the country.
"Soldiers should do whatever it takes to be able to develop and prepare themselves as professionals, and also going back to society where they came from."
On the ECOMIG forces, he said he had been working with them even before they got deployed in the country, and would continue to work with them harmoniously.
It is also part of their strategies to ensure the networking among security forces is welded together, he said.
They will continue to engage ECOMIG as they have to collaborate in many ways, he said.
According to CDS Kinteh, it is left to them as soldiers to be able to prove to civilians that they are in the country to serve them.
They want to bring back good values where the soldier sees him or herself as a citizen, who is charged with a very important responsibility of defending others and having an obligation to the people paying for their services, he further stated.
Read Other Articles In Article (Archive)