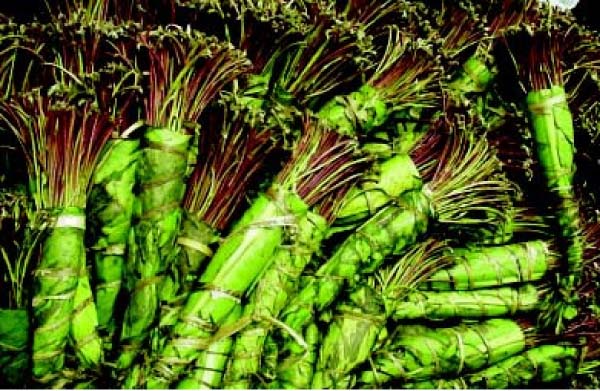 Some members of the African communities across the United Kingdom are jubilant, while others bitterly feel disappointed following the recent banning of chewing the popular leafy plant commonly known as khat, widely consumed by some sections of the African communities.
Following the ban, khat is now officially classified as a 'Class C drug'.
The consumption of khat is widespread among East Africans in UK such as Somalis, Kenyans and Ethiopians, as well as certain Middle Eastern men, particularly from Yemen. However, a tiny minority within the West African communities also chew khat.
Prior to the ban, The Point newspaper had reported an intense but rather diplomatic debate regarding proposals to 'criminalise or simply legalise khat'. During the time, the problem of 'addiction, family break downs and unemployment' was an important factor.
However the threat to ban khat later gained momentum, and gradually ended in court.
Those calling for it to be legalised maintained that there is no 'tangible evidence' for khat to be banned, as people are 'merely using it to chew and socialise with friends and families'. Therefore, they continued to argue that banning it is 'too harsh'.
Nasser Ahmeed, a British national of Yemeni decent living in London, speaking to this correspondent following the announcement claimed that he has been 'chewing khat for decades' and encounter 'no problem' with its consumption.
Mr Ahmeed who is also a political commentator said: 'As you can see for yourself, there is nothing whatsoever to prove that I am negatively affected by chewing khat. I am a normal professional…We enjoy it in our social gatherings, especially after work… and now most of us are unhappy'.
On the other hand, advocates in favour of the ban, including community activists in the city and elsewhere around the country, mainly from the Somali communities, are rejoicing with satisfaction. They are equally insisting that khat is an 'illegal herb' and the ban was 'long overdue'.
Karim Ismael, an undergraduate student reading law in London, is one of those celebrating. He claimed that his brother's life has 'been destroyed by chewing khat the whole day and not working, but making noise in a friend's shop'.
Karim said: 'I think the ban was long overdue. We have been appealing to the authorities to ban khat to no avail. Now we thank God that finally something has been done about it'.
A British expert from East Africa, who gave detail information to The Point newspaper regarding the cultivation and use of khat in the region and beyond, acknowledged that 'many businesses and occupations have been affected by the ban', but quickly pointed out that some 'African countries in the region had earlier initiated the ban due to the serious effects on the populations'.
Khat is reportedly banned in the United States and many European countries. Those using it said that the leaf is 'extremely bitter, which compels the mouth to fill with saliva'.
Some medical experts noted that it 'stimulates dopamine, causing unnecessary excitement, and sometime euphoria', hence a cause for concern.
Interestingly, the country's Advisory Council on the Misuse of Drugs (ACMD) has repeatedly said that there is 'insufficient evidence that khat caused health problems'.
There is no doubt that such reports are relied upon by many khat users to continue chewing, and are also prepared to argue and debate with anyone suggesting otherwise.
Nonetheless, despite contrary medical indications and lengthily debates over the years, khat is now classified as 'Class C drug' and offenders could be cautioned, fined or even jailed for possession or chewing khat.
Read Other Articles In Article (Archive)