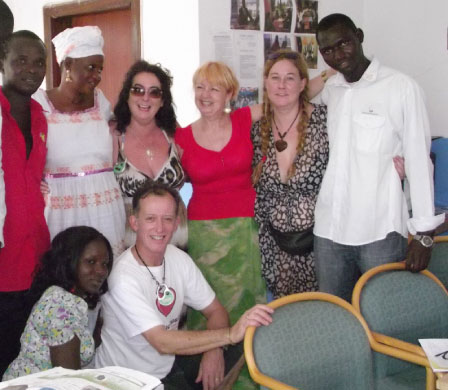 Members of Karmic Angels International Monday arrived in the country for a two-week humanitarian work.
Karmic Angels, formerly a charitable organization operating in the UK and The Gambia, now works as an NGO.
Established as a charity in 2008, Karmic Angels is the brainchild of a British couple, Alan and Stephanie Turner.
The organisation provides education and relief aid as well as development projects in The Gambia.
Speaking in an exclusive interview with our reporters at their Kairaba Avenue Office opposite the US Embassy, the philanthropists expressed their desire to expand their existing school projects and sponsorship scheme to enable more Gambians benefit from their gesture.
"We are absolutely delighted to receive our NGO's status in August this year; this show how the Government of The Gambia has faith in our work," said Karmic Angel director Alan Turner.
 He added: "We have long-term future plans for the development of The Gambia and I am sure with having NGO status will add value to our work." Alan Turner, director of Karmic Angels International and co-founder, told The Point.
He also said they would embark on school building projects very soon at the Bundung Borehole and Bokaloho Annex Nursery School, which was not in good shape and structure.
He further revealed that they are expected to build three classroom blocks together with a toilet block for students.
The organisation will soon start distributing some educational and learning materials to their sponsored schools.
Founder director and chairman, Stephanie Turner said she feels highly honored and blessed to have their NGO status, adding: "We hope to work with the government in attainment of the government's development blueprints such as Vision 2020. We shall always continue to be consistent and transparent for the benefit of Gambians and brighter Gambia," she said.
The team also consisted of two other volunteers from the United Kingdom in the name of Dana Aldington and Debbie Morrison.
They spoke to The Point and expressed their desire to work with Karmic Angel's for the betterment of The Gambia.
"I feel good to have the opportunity to work with K.A. to make difference in the livelihood of Gambians," Dana said.
For his part, Pa Louis Gomez, K.A Gambia director, also expressed similar sentiments.
He said as an NGO they are fully aware of the numerous challenges that lie ahead but hope to overcome them.
"Government alone cannot do all," he said while calling for strong collaboration to achieve government's goals and aspirations. His office door is open to Gambians.
Read Other Articles In Article (Archive)