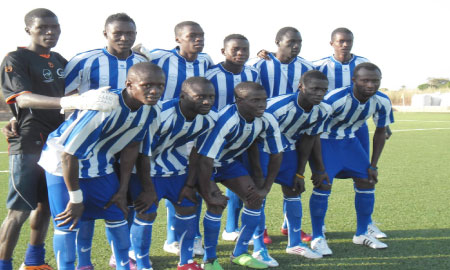 Coach Tapha Manneh has set his sight on passing the second round of the CAF Confederation Cup after a successful outing last weekend.
The Gamtel coach has said his double-leg win over HLM of Senegal last weekend is nothing new to the telecommunications boys as their target was to meet solid side CSS of Tunisia in the round of sixteen next week.
Modou Sarr and Hatab Badjie's brace gave Gamtel all they needed to seal a two-legged win over HLM who were beaten in Banjul 2-1 earlier.
"Senegal was not our target," he said. "Since last year we went passed this level; we are looking forward to continuing where we stopped and advance to the other stages of the Championship."
Looking at recent records, Gamtel have over the years gained a lot of experience when playing against teams from Senegal by coming out victorious.
This, Tapha said, is as a result of the edge on competitiveness the Gambian league has over that of Senegal in the past years.
"This is why we are better than them at local level but things are different when it comes to national level as their professional players are more exposed," he pointed out.
Coach Tapha is aware of the fact that the Tunisian boys are no push overs as they are two times winners of the championship. CSS of Tunisia won the title consecutively in 2007 and 2008.
Ahead of their next fixture against CSS of Tunisia in the weekend of the 15, 16, 17 March in Tunis, the determined Gamtel coach is planning to hold a test game against Tallinding United on Wednesday before departing to Tunis for another crucial outing.
Gamtel will play the return leg in Banjul two weeks later.
"I want to send special thanks to members of our fan club who have since 2010 been working with us. They travelled all the way to Senegal to give us support," he said, adding: "The management of Gamtel/Gamcel are all doing everything possible to make sure that we succeed. I want to thank them for their support."
Read Other Articles In Article (Archive)