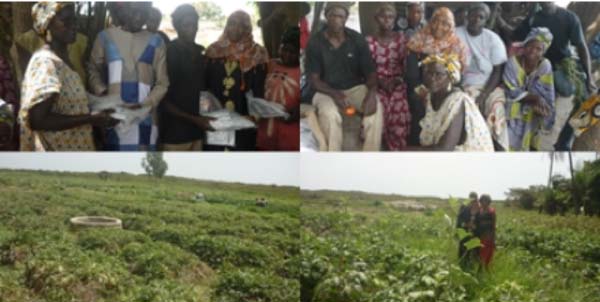 Jurarim Organization for Youth Excellence (JOYE) is a 501 (c) (3) non-profit organization registered both in the United States and The Gambia whose mission is to promote youth excellence by providing a beneficial environment for learning.

The organization recently donated various seed varieties to Faji-kunda Dumos Farato gardeners, to help build a lasting relationship with them while providing them with much needed garden and vegetable seeds.
The seeds included packets of water melons, tomato, sweet pepper, hot pepper, cabbage, okra, carrot, lettuce, black beans, garden eggs and curcuma were donated to JOYE by Child First Meds in Texas, USA.
Child First is also one of JOYE's partners and has worked with for the past four years.
Speaking at the presentation ceremony held at the Faji-kunda Dumos Farato, Sheriff Kijera, JOYE Foundation Programme Coordinator, said they were impressed with the work at the garden but also realised that they needed support when they previously visited it, which resulted in donating the seeds to them.
Kijera noted that the foundation is based in the United States of America and raised funds to support and provide for its programmes and services on the ground.
He said JOYE had sponsored over 250 students, worked in over 22 communities, dug 2 wells and provided summer school and other extracurricular activities for its beneficiaries.
For JOYE, he stated, sponsorship does not end with just providing financial support, it takes a holistic approach by providing for the whole needs of the child.
JOYE believes in approaching education in a holistic manner, Mr Kijera stated, adding that they have also bought a garden in Faraba Bantang which they intend to make into model horticulture.
They have also bought a place to use as a boarding school to be able to house and monitor the education of their sponsored students.
According to Kijera, they previously supported communities and schools in the North Bank Region with seeds but decided to extend it to the Greater Banjul Area since they need to be monitoring the germination, progress and yield of the seeds.
Aminata Correa, the defeated PPP candidate for Latrikunda Sabiji in the recently concluded National Assembly election, showed her gratitude and thanked JOYE for the support.
She said through the donation they are empowering their local farmers, brothers and sisters in the gardens they are working and earning a living as well as supporting their families.
Ebrima Njie, Faji-kunda Alkalo, urged the beneficiaries to make best use of the seeds given to them in order to gain something from it that would benefit them and their families as well as the wider society.
Musa Camara, a male gardener, said they would ensure they are given the seeds to be used for the right purpose.
Read Other Articles In Article (Archive)