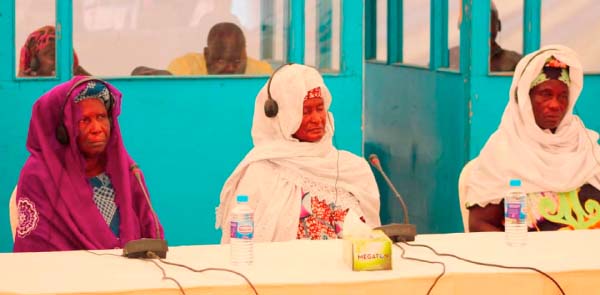 Three witnesses, yesterday testified before the TRRC regional hearings in Jambur at which they narrated how they where alleged as witches in their various villages by former president, Yahya Jammeh's witch-hunters.

Lamarana Jallow, a native of Galoya village explained that those who came to their village were drumming singing and dancing.
She added that they were told that those dressed in red were marabouts sent to capture witches and wizards. She said those taken were not indigenes of Makumbaya village but strangers.
"They went around the village, abducting people from the village. Apart from those captured from Makumbaya, they captured people from Galoya. There was a lady that was captured by the name Maram Jallow and others were arrested from their rice fields. One Chargi Jallow was also arrested."
Lamarana told the commission that during their detention in Kololi, they urinated on themselves as they did not have a place to urinate. She said that all the places were locked and they were told that they should not drink water on the grounds that anyone who drinks water would die.
"When we arrived, they gave us food to eat so that we could go and drink the concoction. Prior to that, they took the sum of D2500 from me."
The witness said that they held her hand and took her to a room where she was given concoction to drink.
"Some people after drinking the concoction became unconscious and did not know what they were doing. The concoction was pounded and mixed with water. I was given a full cup to drink and I was asked to add but I refused," Lamarana said.
Mrs. Fatou Sowe, 40, another witness narrated they were arrested while selling at market.
She said they were asked to board a vehicle but she told them that she was not from Makumbaya, but from Galoya and at that time her children were out for break. She explained that the marabouts were dressed in red and had mirrors, adding that if any refused to board the vehicle, the green boys would beat them.
According to her, she did not know those putting on red, but they spoke to them in Mandinka. She said they did not know where they were from but they were Fulas.
Mrs. Sowe testified that it is correct that she and one Sukai were arrested on the same day and time.
She said on the day she was arrested, she was removing gravel from rice but she later saw people dressed in red with horns, and with some youths dressed in red; who told her that she was not healthy and if she drinks the concoction, she would be cured.
At this time her younger sister was there and she urged her to go with them, she narrated.
She continued that she was reluctant to go but she had no choice because she was afraid, saying after she was captured, she was taken to Makumbaya.
Fatou Sowe explained that she never had high blood but after drinking the concoction, she now has high blood pressure. She said those that were in the bus were between 50 and 60 people. She said that after drinking the concoction, she fainted.
"After I became conscious, I realised that I was not in the same room where I drank the concoction. The boy asked how many people I ate since last year. I told him I never eat anybody. I told him I am not a witch."
She further indicated that she later came to hear that the marabouts were sent by former president, Yahya Jammeh.
Mrs. Sowe explained that before she left the detention place, they were asked to take bath. "A young man who can be a grandson to us, bathed us and rubbed the medicine on us and since then I didn't feel well."
She added that after she returned to Galoya, she perceived herself as a witch; adding that the society judged and looked at them as witches.
Another witness, Sukai Jallow also confirmed that she was arrested with Fatou Sowe and Lamarana Jallow.
She said she could not recall anyone other than those she was arrested with in Galoya. She added that those that took her were heartless because her children were crying and they refused to let her be. She indicated that she was very unhappy and sad but she had no powers.
Mrs. Jallow further said that she was not allowed to change her clothes during their detention. "They took D700.00 from me and we were given 'Domoda' (groundnut soup) as a meal. Upon arrival, they put us in a big sitting room and they gave us food. But I told them that I was okay because my stomach was full."
"They also took the sum of D2500.00 from me that was sent to me by someone from Malaysia."
The witness explained that before she drank the concoction given to her, she saw people who drank that and fell down.
"Some were lying down as corpses. The concoction was green in colour and it was bitter. I was given a full cup and a half and I had no choice but to drink and chew the green leaves inside it."
Sukai said she was not feeling well and had constant headache because of the concoction; adding that she is still not feeling strong.
She said her children were told by members of her community that she is a witch; adding that her health condition has deteriorated though she had sought for treatment. She said her legs have problem because of the concoction.
Finally, Sukai blamed the former head of state Yahya Jammeh for what happened to her.
The chairman of TRRC, Dr. Lamin J. Sise stated that they were not only victims of witch-hunting but robbery as well because their monies taken were not returned to them.
Read Other Articles In Article (Archive)