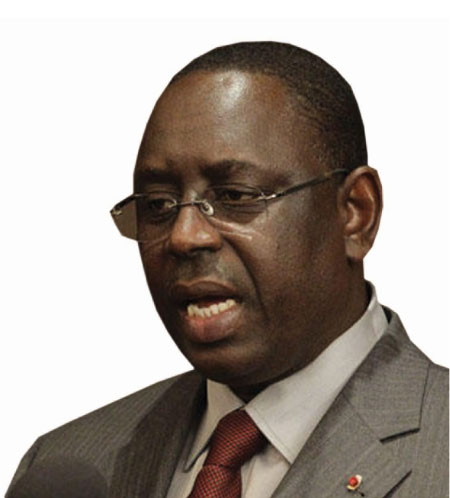 President Yahya Jammeh has assured his Senegalese counterpart, President Macky Sall, of his fullest support in tackling the crisis in Casamance, stressing that The Gambia and Senegal are one people divided by colonialism.
"I will stand with you all the way, to make sure that the problem in Casamance becomes history," Jammeh told Sall, who was in Banjul for a one-day visit on Sunday.
Sall, who made Banjul his first port of call as President of Senegal, was met at Banjul international airport by President Jammeh, with whom he had a tete-a-tete discussion at the Coco Ocean hotel.
Speaking shortly after the signing of a joint communiqué, President Jammeh said Gambia's interest is to make sure that there is an excellent relationship between The Gambia and Senegal because, as he put it, "we are one people divided by colonialism".
"We are brothers, and I don't want any diplomacy between me and you. Tell me the truth, and I will tell you the truth, so that we can understand each other and trust each other," Jammeh told Macky Sall.
"I'm ready to work with you and share my experience with you at anytime, but I would also knock at your door when I need advice, because nobody is an expert," he said.
According to the Gambian leader, the problem of Casamance would have been history by now if Abdou Diouf had won in 2000, because at that time they had agreed a comprehensive agreement with the MFDC, and they wanted to transform it into a political party and the others will be re-integrated into the Senegalese army.
At that time, he said, the MFDC only settled for only one request which was acceptable to Abdou Diouf, and even went further to involve the European Union, which was supposed to finance the de-mining of Casamance, and the training of the combatants.
Noting that former President Wade had accused him of supporting the MFDC rebels, Jammeh said former President Wade in August last year wanted him to mediate in tackling the conflict in Casamance.
"I made it very clear to him that he has to reciprocate by also expelling all Gambian dissidents including former Chief of Defence Staff, the alleged mastermind of the 2006 coup in The Gambia from Senegal, but Wade told me that he is a democrat and human rights advocate and would not extradite any dissident to The Gambia," he added.
Macky Sall commended President Jammeh for his visionary leadership and foresight, assuring him of his readiness to bringing about a lasting solution to the conflict in Casamance.
According to the communiqué, during their discussions, the two leaders reviewed the political and economic situation in The Gambia and Senegal, the developments in the African continent, as well as issues of common concern.
In discussing issues of common concern in the sub region, especially developments in Mali and Guinea Bissau, and the wider African continent, the two heads of state stressed their conviction that there can be no internal stability without regional peace and, therefore, undertook to cooperate in the fight against all forms of threat to peace, security, and progress in the sub-region.
Read more on Macky Sall's visit to Banjul in our subsequent issues.
Read Other Articles In Article (Archive)