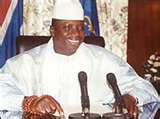 The Gambian leader, President Yayha Jammeh has vowed to enforce death penalty so as to prevent or discourage escalating rate of murder incidents in the country.
"The death penalty is there to ensure that nobody kills anybody. We are going to implement the death penalty to the letter". If you kill and the law says you must die, you will die," said President Jammeh.
President Jammeh made these remarks on Sunday 20th September 2009, at State House during his annual Koriteh meeting with Muslim leaders where he spoke tough on scores of critical issues, including murder, rape, human rights and discipline.
He categorically stated that whosoever wants to undermine peace and security in the country, would have his/her head cut off.
"One thing that is interesting, those hypocrites and human rights campaigners are not saying anything about those who are killing people," he said.
According to him, those who advocate for human rights and democracy have their soldiers in foreign lands where they continued to inflict terror on the life of innocent people. He cited countries where such charade continues to exist, such as Afghanistan and Iraq.
He said according to them, they are there after terrorists, but they are doing so to protect their countries but they want him to allow terrorists destroy in this country. This he said would not be tolerated despite what. 
In his own words, he said government will amend the law to make sure that anyone who is found harbouring murderers will also be punish.
"Reckless driving resulting to death," he said, "is also tantamount to murder."
He maintained that crime such as murder, rape, armed robbery, and drug peddling will not be compromised in this country.
"There had been so many media reports on road accidents resulting in death, rape and some killings in the country," he stated.
On discipline of children, President Jammeh said it has to start from homes with the parents, especially men, who must be ready to play their rightful role in disciplining their children.
"Rights of the child will be based on our culture. Our Islamic customs will never be compromised," he emphasised
On illegal migration, President Jammeh made it categorically clear that his government will not be involved in the evacuation of Gambians, but will instead use such resources to empower youths back home.
President Jammeh, who is also the Religious Affairs Minister, stated that Muslims are to be blamed for fueling their own troubles and tribulations.
"How can we have peace when we keep on killing each other?" he asked.
He blamed certain Islamic scholars for bringing confusion among believers when it comes to the sighting of the moon. As he put it, the Islamic Council has already written to him that henceforth they would pray on the same day with Saudi.
He then suggested to the Islamic Council to meet and dicuss within one week to come out with a final decision regarding the matter.
Read Other Articles In Article (Archive)