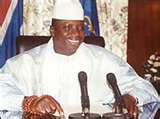 President Yahya Jammeh has once again reiterated the need for the international community to give the Republic of China on Taiwan more space in the international arena.
The Gambian leader made the call recently in New York, while addressing the 64th session of the United Nations General Assembly.
"My delegation holds the position that Taiwan should be invited to participate in all meetings and activities of the United Nations Framework Convention on Climate Change (UNFCCC) and the International Civil Aviation Organisation (ICAO), among others," he stated.
Taiwan, according to President Jammeh, has legitimate rights to full membership of all UN specialised agencies for, as he put it, even NGOs have either full membership or observer status to these agencies.
"Taiwan with 23 million people, a democratic state is being denied this fundamental human rights that the UN is purposed to uphold and protect in the first place," he stated.
He also called for the United States of America to immediately and unconditionally lift the embargo on Cuba.
Read Other Articles In Article (Archive)