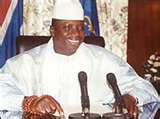 President Yahya Jammeh has pardoned six Gambian journalists: Ebrima Sawaneh, Pap Saine, Sarata Jabbi- Dibba, Pa Modou Faal, Sam Sarr and Bai Emil Touray, who were on 6th August 2009, sentenced to a two-year jail term.
According to the release monitored on GRTS last night, this presidential pardon has been taken in the spirit of the holy month of Ramadan.
The government of the Republic of the Gambia guaranteed the exercise of the freedom of expression, as well as the dignity and integrity of every citizen who have the right to the laws whenever their integrity or dignity has been infringed in the exercise of freedom of expression, the release stated.
The journalists, the release added, are urged to desist from been seditious and to remember that every citizen is accountable to his or her action including journalists.
The convicted journalists were sentenced on six-count charges ranging from conspiracy to publish seditious publications, publishing seditious publication, publishing seditious publication, read together with Section 52 (1), conspiracy to commit criminal defamation and two counts of criminal defamation.
After perusing and considering both evidences of the prosecution and defence, Justice Fagbenle stated that he was of the belief that the prosecution had proven their case on all charges preferred against the accused persons, and accordingly convicted them under Section 52-(A), 52-(C), 178 and 368 of the Criminal Procedure Code, Laws of The Gambia.
Following the conviction, Justice Fagbenle sentenced the convicts on count one, to a mandatory jail term of 2 years in prison, without an option of a fine.
On count two, the accused persons were sentenced to a fine of D250, 000 each, in default to serve 2 years in prison.
On count three, the accused were fined D250, 000 each or 2 years in prison, and on count four, five and six, respectively, they were each given on each count a mandatory jail term of two years in prison.
All the sentences were to run concurrently.
It would be recalled that the 5th accused, Abubacarr Saidykhan, who was arrested for attempting to take snap of a photograph while the NIA were effecting arrest of the sixth accused Sam Sarr, was earlier acquitted and discharged on the basis of a 'No-case-submission' by the Defence Counsel.
Read Other Articles In Article (Archive)