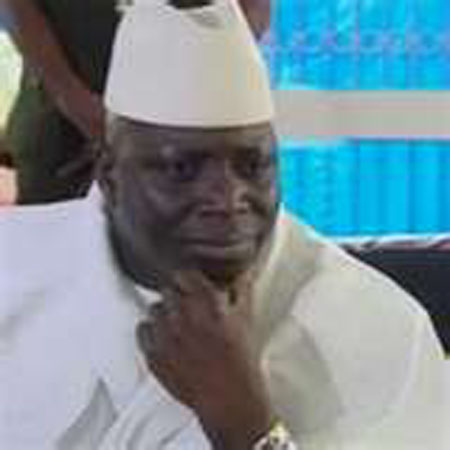 In yet another instance of tough-talking, President Yahya Jammeh has launched a new operation dubbed "Operation Bulldozer" with a view to tracking down those he regarded as criminals in the country.
Jammeh, who announced the development Tuesday during a meeting with the National Security Council at State House, stressed that "no diplomacy or aid or friendship" would allow him to allow people to destroy his country.
"The reason why I called you (the National Security Council) is that we have to get rid of all the criminal elements, and we are going to call it Operation Bulldozer, and I will personally supervise that," Jammeh told the meeting.
Noting that he is not a racist, Jammeh warned that all criminals whether black or white should leave the country, if they are not Gambians.
"As from now, I want to make sure that anybody can walk in Serrekunda or Manjai, or Brikama or Kanilai at 4 am with a bag of money in his hand and nobody would ask him why. Criminals holding people hostage is not going to happen, as far as I am the President of this country," he added.
According to him, under his watchful eyes, he will not allow less than one percent of the population to hold a country's destiny to ransom.
"I want all the criminals out of this country; and those who are Gambians, they would have to go to jail, because we will not allow less than one percent of the population to hold a country's destiny to ransom – that is unacceptable," he stated.
"Drug dealers, paedophiles, homosexuals, murderers, drug traffickers, human traffickers, 419, we are not going to tolerate that in this country – black or white, I don't care," the Gambian leader added.
He further stated that if Gambians who are criminals go to jail, he does not see any reason why foreigners would enjoy it in the country when they are criminals.
"Those who think that their bad habits from outside can be brought to this country, they are making a grave mistake. We are not going to tolerate criminal behavior, and crime in whatever form is unacceptable. We have zero tolerance for crime, and we are not going to compromise on that irrespective of whether or not we signed any protocol with anybody," he vowed.
Jammeh also told members of the National Security Council that, as from now, he wants criminals to be ready because they have to clean the Greater Banjul Area, before the 22nd of June.
Announcing a one month of intensive operation, Jammeh tasked the security chiefs to demolish any criminal den.
"Anybody who is allowing your premises to be used by criminals, you are asking for trouble. We are also going to look at the laws, maybe apply the same as we did for drugs," he stated.
Commenting on the scourge of armed robbers, the Gambian leader said this:
"And for armed robbers, I will give you (the security forces) these messages – shoot first and ask questions later, because we cannot allow armed robbers to terrorize innocent people in this country."
Read Other Articles In Article (Archive)